Dear Reader,
It all starts tomorrow morning. So listen closely.
I've developed a scientific way to zero in on the stocks with the most explosive profit potential... day after day... week after week... year after year.
I call it "Stock Sonar."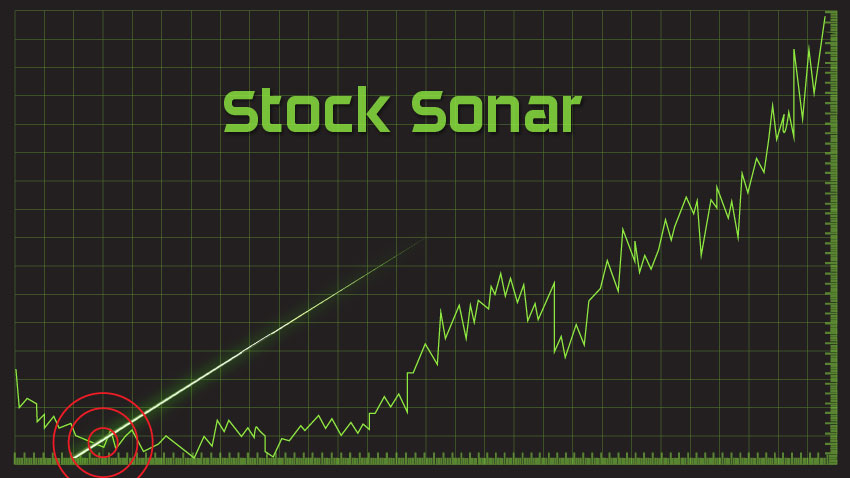 It's a method so precise, you'll be able to position yourself 24 hours before these stocks begin their meteoric run-ups.
These aren't the typical stocks "civilians" add to their portfolios.
In fact, the elite system you're about to see would have absolutely thrashed the S&P 500 by 3,328%.
And today I'm going to show you how you can target these stocks with laser-like accuracy.
This method is so powerful, I made sure it was registered with the U.S. patent office before going public. I wanted to make sure you would have exclusive first access.
Here it is. Provisional patent #62507516.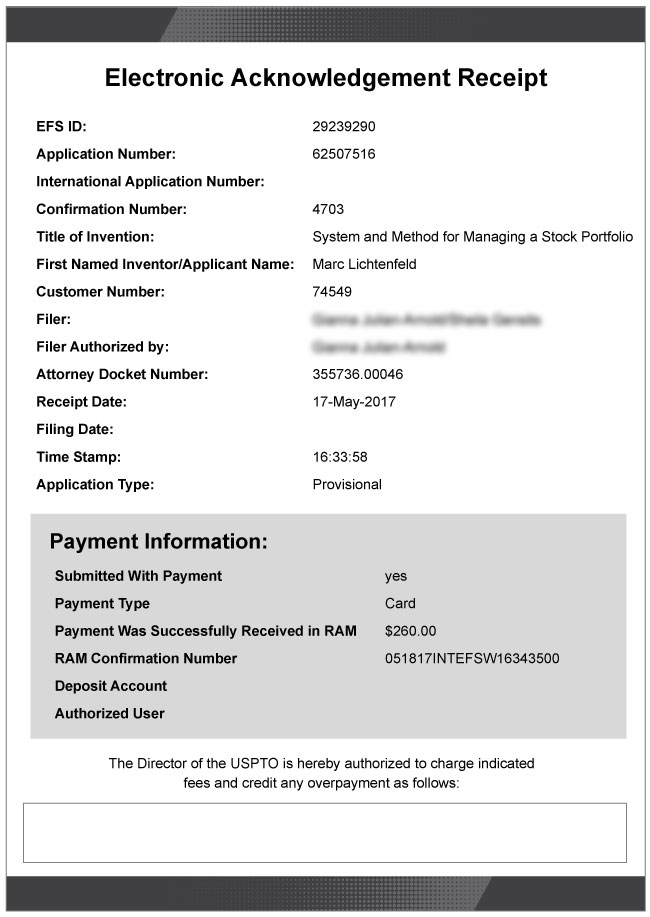 My Stock Sonar technology sweeps the stock market constantly to lock on to explosive opportunity after explosive opportunity.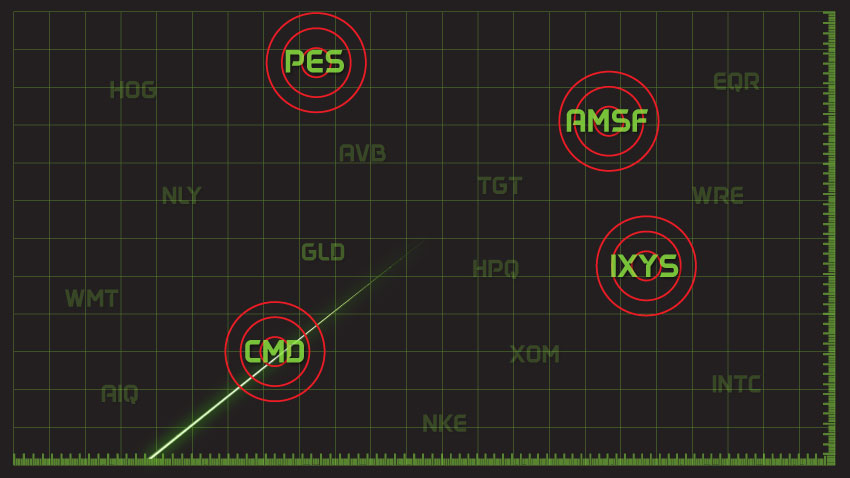 It ignores nonsense indicators... doesn't get fooled by headline hype... and focuses on its mission above all else.
And that mission is to help make you obscenely rich.
In our historical testing, one year posted a win rate of 94.3%. That's about 19 winners on every 20 plays!
And let me tell you, the stocks went on to show MASSIVE gains over time.
Like this 796% gain on PVH Corp...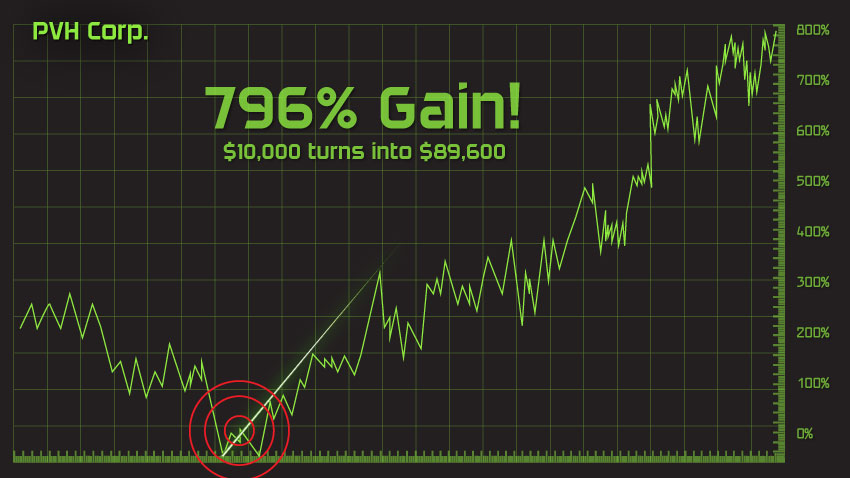 If you'd had access to my "military grade" tech, you could have turned $10,000 into $89,600!
My technology also would have identified an 867% gain on Skechers USA...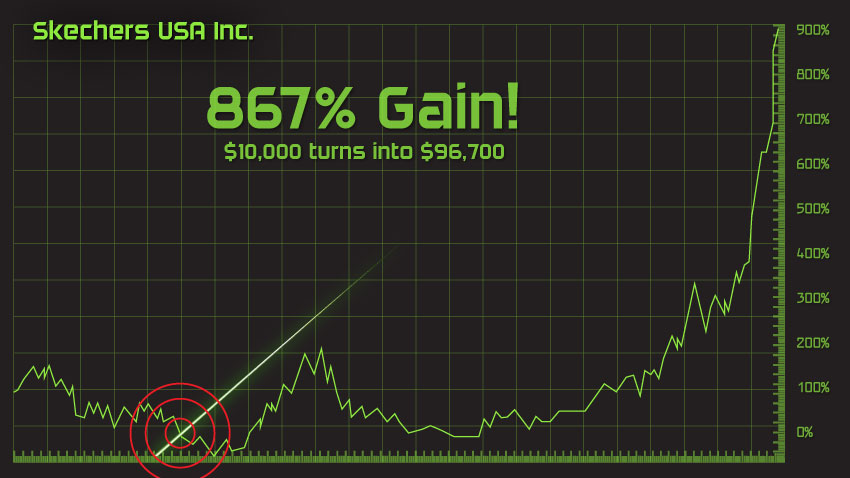 Enough to turn $10,000 into $96,700!
And even an extraordinary 1,090% gain on Littelfuse – enough to turn every $10,000 you invested into $119,000!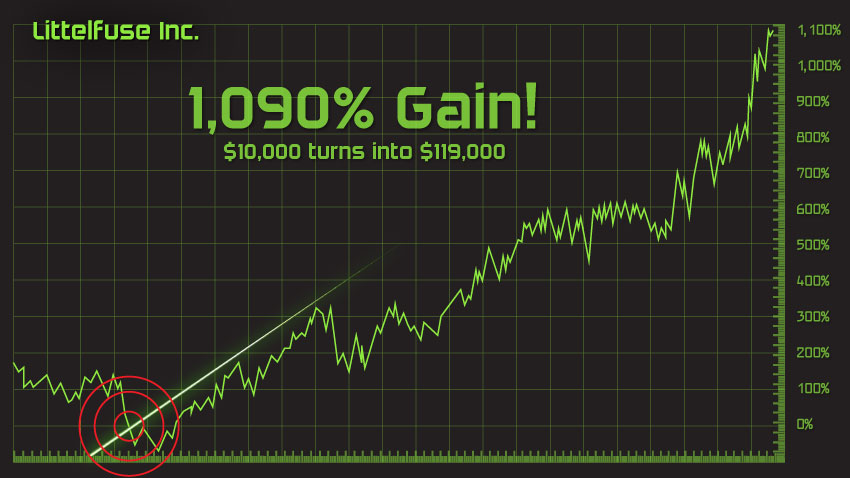 These gains are not isolated events.
An average of 43 companies are "pinged" by my Stock Sonar at any given time.
I'm going to show you how it's possible to use my proprietary technology to grab these types of gains for yourself... over and over.
And to be clear, you won't need ANY technological training or financial experience whatsoever.
All you need is a computer, an internet connection and the password I'll provide for access to my Stock Sonar system intel.
My system has just pinged three stocks that you can invest in RIGHT NOW.
And even though the patent application is in my name, you'll keep 100% of your trading profits if you choose to act.
But there is a catch. I can only grant access to 225 people today.
So let me show you how to get the details 24 hours before these three plays start to take off as much as 1,090%.
A Breakthrough Stock-Picking Technology Unlike ANYTHING I've Ever Seen...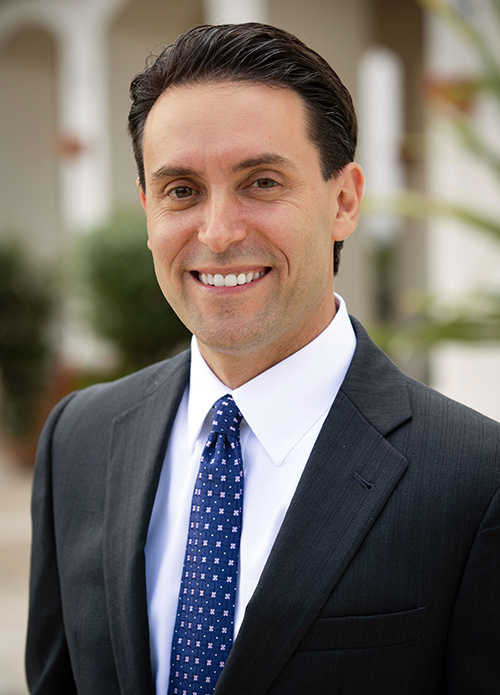 I'm Marc Lichtenfeld, Chief Income Strategist at The Oxford Club.
In my 20 years in the financial markets, I've seen and done it all.
I've executed multimillion-dollar trades at a boutique trading firm...
Developed my own proprietary strategy for generating SAFE 11% dividend yields year after year...
And even stormed the markets to deliver readers the chance to capture an average of 100.1% gains per trade over an entire YEAR.
But in all my time as a market strategist, I've found my Stock Sonar is without a doubt the most groundbreaking achievement of all.
It could easily deliver the fattest profits my followers have ever seen.
And that's saying something. The people who have followed my research have made an absolute killing.
Like Alexander K., who wrote, "I must say, you did a crazy awesome job on that one... A 493% gain, right? Not sure, I've never had to calculate such crazy gains... Holy cow!!!"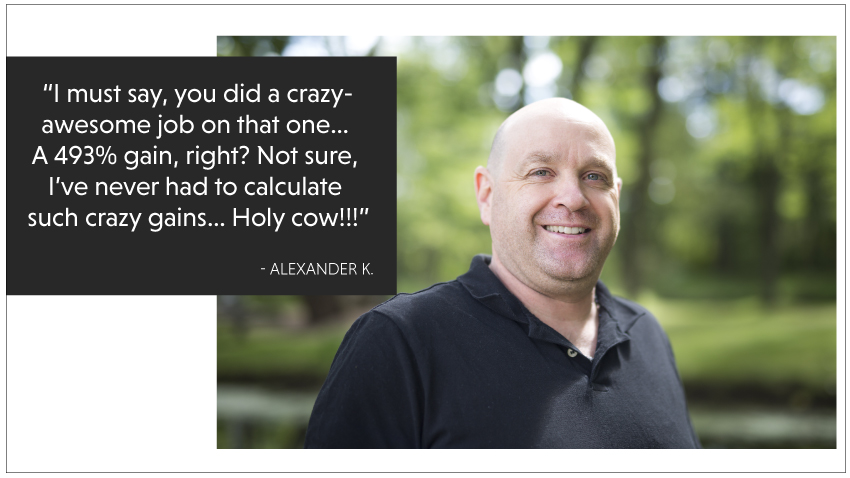 Regarding another of my recommendations, Sean O. told me, "The largest percentage profit I have ever made."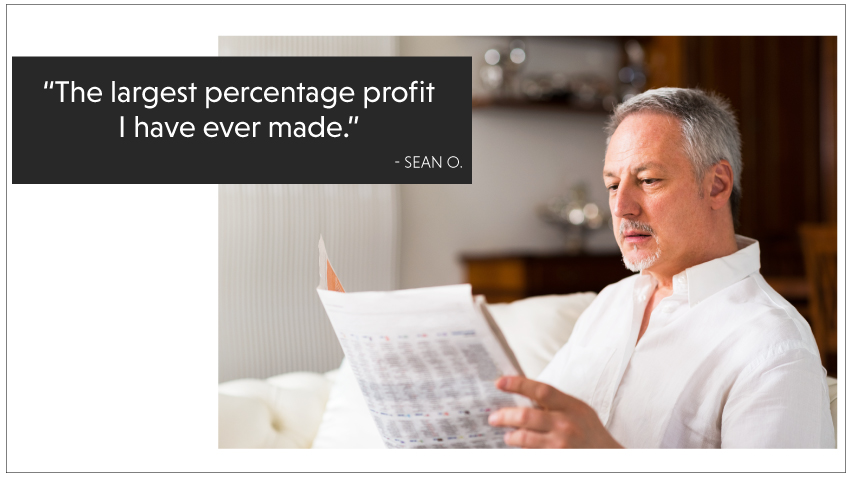 And Jack C. dropped this bombshell: "I made about $200K on Synergy thanks to you. Bravo!"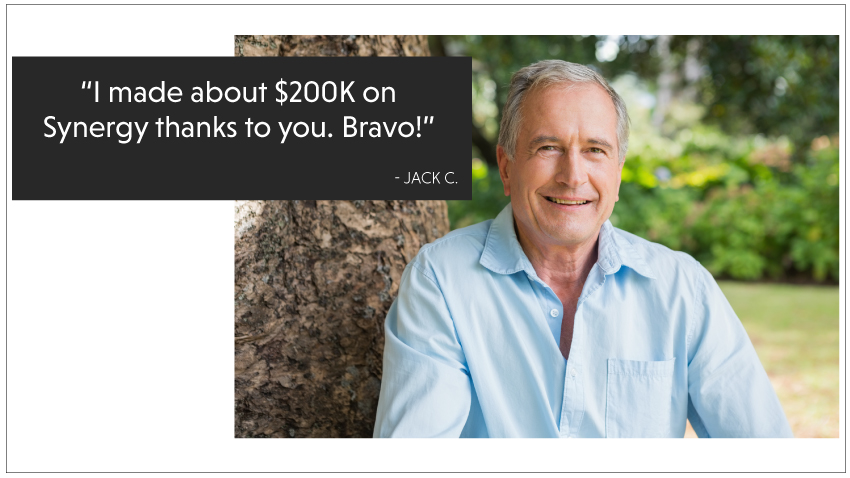 Now, don't get me wrong. I was happy to help my readers get rich...
But I wanted to develop a system to make folks even richer.
And you could be one of the first 200 people in the WORLD to benefit from my Stock Sonar today.
Here's how.
An Unknown Class of Stocks With More Profit Potential Than Most People Even DREAM Of...
You see, when you've been in the markets as long as I have, you start seeing patterns...
Characteristics that truly explosive stocks all share.
I'm not talking about volume... or earnings per share... or even analysts' precious price-to-earnings ratios.
I'm talking about nine little-known "profit triggers" I've seen deliver a barrage of MASSIVE gains over the years.
Time after time, I've seen it happen.
In bull markets... bear markets... sideways markets...
When these nine triggers start converging...
Hold on to your hats. Because triple-digit gains are coming. (Often even bigger gains too, as you'll see in a moment.)
In fact, when I tested my system across 17 years of historical data, it returned some of the most astonishing results I've ever seen.
Take a look at what happened on September 26 a couple years back.
It was a trading day like any other...
Retail investors were buying on headlines and losing their shirts... Wall Street was ripping off their clients...
And under the surface, truly life-changing gains were hidden from most investors...
But not from the nine triggers my system runs on.
My Stock Sonar would've delved deep into the market... looking for stocks with monumental upside... when all of a sudden...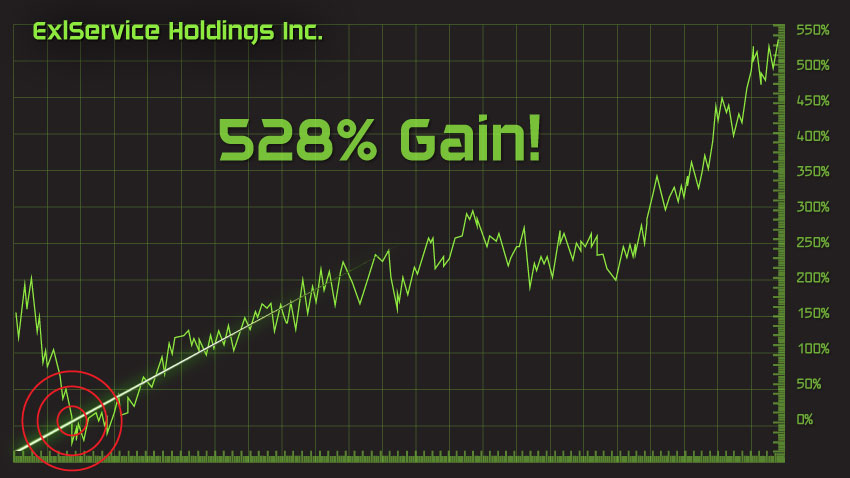 ExlService Holdings would've set off all nine profit triggers.
24 hours later, the stock began an absolute tear.
A 528% gain!
Here's another example.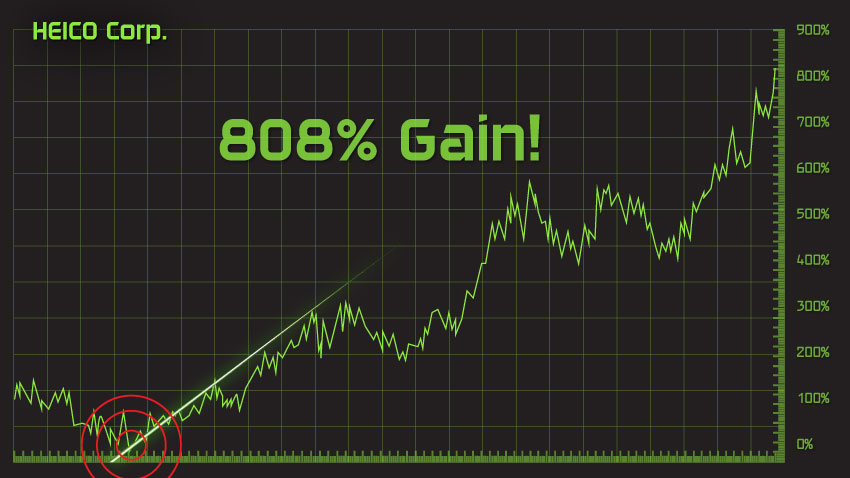 24 hours after HEICO Corp. set off all nine profit triggers... the stock initiated a launch of 808%!
And it only gets better.
My Stock Sonar picked up on this monster of a trade during a test sweep not long ago.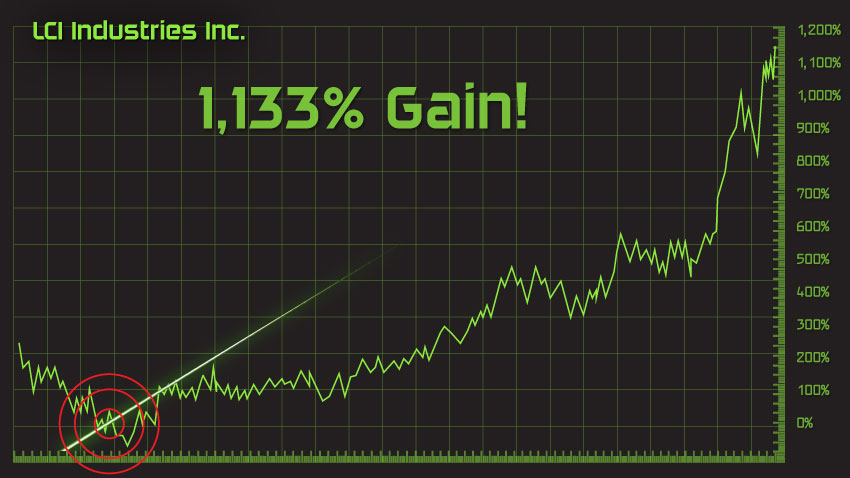 24 hours later, LCI Industries started to surge 1,133% higher!
$10K into each of these stocks would have become a gigantic windfall of $276,800.
But were you invested in any of them?
If so, nice work. You probably made some good money.
But if you're like most people, you've probably never heard of these companies... let alone had the foresight to buy them at the right time.
You might even believe finding these massive winners would be impossible for you.
But that's exactly what I designed Stock Sonar to do. It could've identified every single one of those stocks... 24 hours before they blasted off.
That's Stock Sonar's sole objective: to use nine proven profit triggers to detect stocks with explosive potential... 24 hours in advance!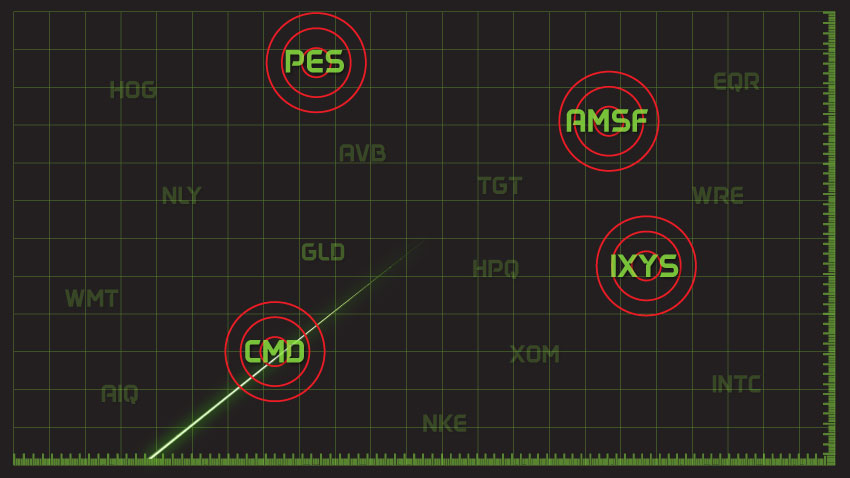 It constantly sweeps all 4,331 publicly traded companies, cutting through all the noise...
To lock on to stocks as soon as they set off all nine profit triggers I've identified.
So you can actually seize the most explosive opportunities in the market... 24 hours before their potentially meteoric run-ups.
Detecting the Gains No One Else Can See Coming
Because here's the thing. Stocks that can make you rich are almost ALWAYS hiding deep beneath the surface.
The talking heads only praise a company AFTER all the big gains happen... and they'll pretend like they knew all along.
And Wall Street will make you pay through the nose for bad advice.
You could take a stab at researching companies yourself...
But with thousands of data points for thousands of individual stocks...
You'd be lucky to collect a double-digit gain on one or two each year.
It's not a knock on you.
There are just too many variables for any human to make sense of.
For example, did you know that over the past 90 years, just 4% of stocks in the market accounted for ALL the gains?
As a result, 99% of investors miss out on the biggest gains in the stock market.
So they give up. They throw their hands up and call it a casino.
They plunk their life savings into an S&P 500 ETF and pray for a measly 7% per year.
But that's no way to retire comfortably. And it sure as hell isn't going to make you rich.
That's why I developed my Stock Sonar...
To take FULL advantage of the fortune-minting power of the stock market.
Targeting the Most POWERFUL Market Victories... With Unprecedented Accuracy
I set out on a mission: To develop a technology that could identify stocks the moment they set off all nine profit triggers. That way my readers could get intel 24 hours before the start of a massive move.
And to make sure it's as accurate as possible, I built it to function like military-level sonar... just like the sonar first developed to target German U-boats in World War I.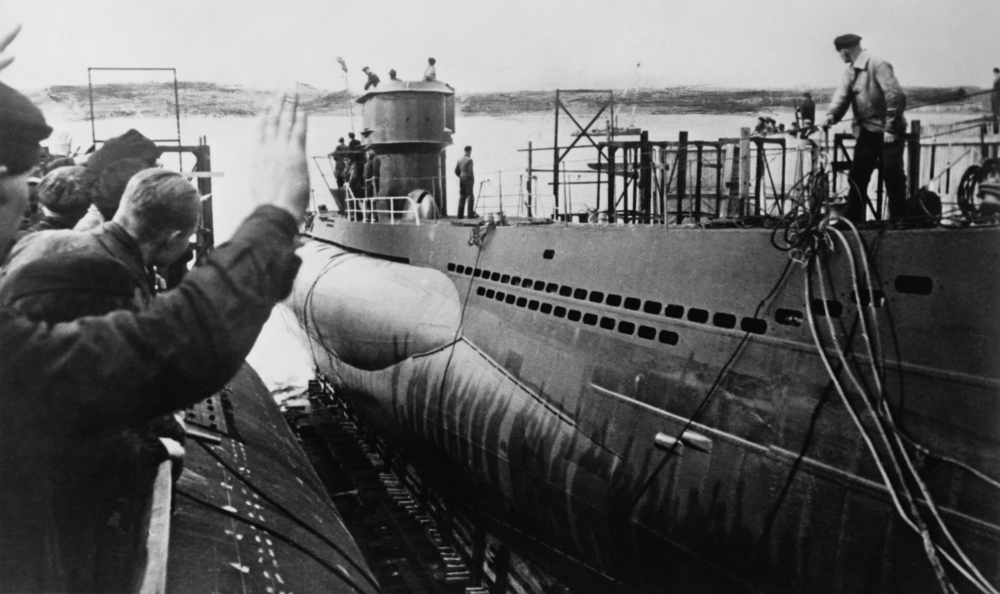 And it's still used today because it's the ONLY technology powerful enough to see into the darkest depths of the ocean.
Sonar sends out sound waves that travel through water at about 3,170 miles per hour.
As it rips through the ocean, it collects all sorts of information a human never could... like depth of water and location, size and velocity of targets... and sends it all back to the operations room where command can act on the intel to find the clearest path to victory.
My Stock Sonar does the same exact thing.
It sweeps the market constantly... collecting data and upside signals...
Looking for stocks that can deliver the biggest possible wins. I'm not just talking triple-digit winners here. As you'll see in a few minutes, even quadruple-digit gains are ripe for the picking with the help of my Stock Sonar.
When it finds all nine profit triggers in one place, I'll rapidly dig into the opportunity and alert you to the best ones immediately. So you can easily position yourself 24 hours before the stock price begins to skyrocket.
This system is so accurate that in rigorous testing, it posted a win rate of 94.3% over an entire year!
Imagine that for a second... every time you buy 10 stocks, nine of them are profitable.
Even if the one stock underperforms, the other nine would more than make up for it.
In fact, in a head-to-head test, my Stock Sonar would've beaten the S&P 500 by an incredible 3,328% over a 17-year period!
So it didn't just beat the S&P once or twice...
But for YEARS. Let me put that in real money terms.
Thrash the Market With My Patent-Pending System
Let's say you put $10,000 into the S&P 500 back in 2000. And you put the same amount of money into stocks my Stock Sonar system would have identified.
The S&P 500 would have handed you a little over $6,000 in profit.
The average, run-of-the-mill investor might be happy with that.
But why? It's chump change compared to what's really possible.
In the same exact time period, my Stock Sonar strategy would have put $208,560 in your brokerage account!
And that's including EVERY play the system would have found – no cherry-picking.
A 60% gain versus a 2,085% gain...
The choice seems pretty clear to me.
It's really incredible. And I have to say, my Stock Sonar exceeded even my own expectations.
The gains it can lead to are tremendous.
Take a look at some of the results of our extensive historical tests...
For instance, on March 28, my system would have locked on to Amerisafe.
The stock set off all nine profit triggers. And look what happened.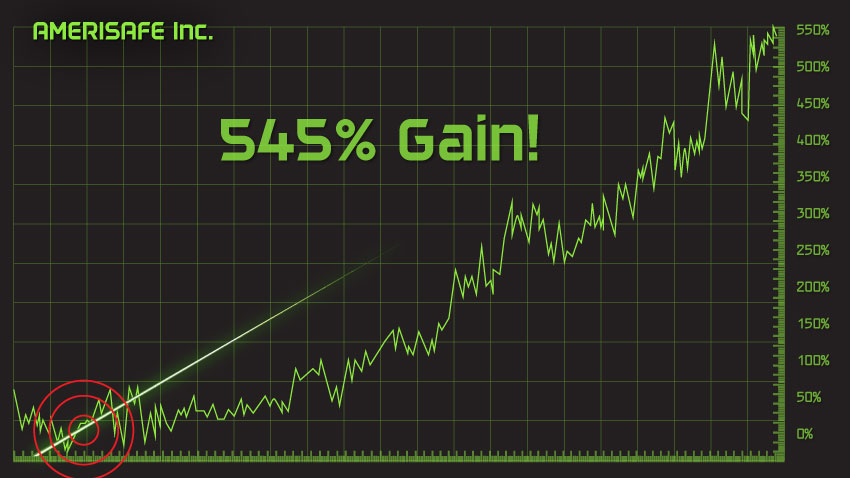 Boom. The stock lit up 545%.
Not bad. But look what happened on another play...
Stock Sonar targeted Core-Mark Holding.
The stock set off all nine profit triggers... and 24 hours later, it took off.
That's a 697% gain!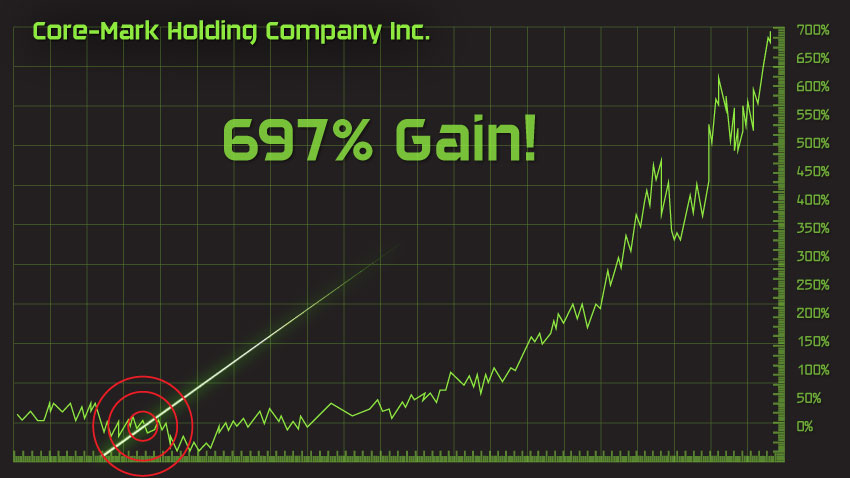 Stock Sonar detected a 794% gain on Foot Locker...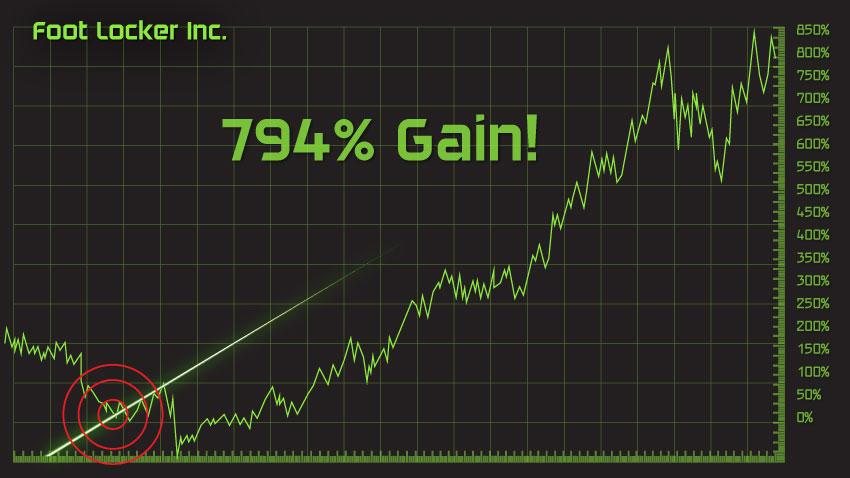 And this monstrous 1,426% gain on WellCare Group.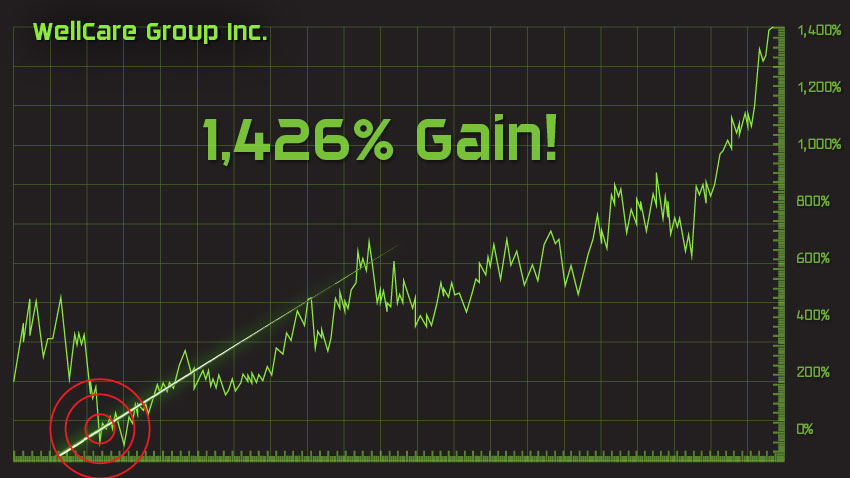 $10K into each of these trades would have netted you – get this – $346,300 of pure profit.
The same amount of money in the S&P 500 would have put just $64,400 in your pocket over roughly the same time period.
That's an extra $281,900. Enough to easily help your kids or grandkids with college – or even their first homes.
And here's the thing.
Our historical analysis proves following Stock Sonar is actually less risky than following the S&P 500.
THRIVE During a Market Crash With Stock Sonar
You heard that right.
You can beat the S&P by 3,328% – with less risk. Here's what I mean.
Not only did Stock Sonar beat the S&P... but it did so with less downside.
In fact, during the biggest financial crises of this century, these tests show my system would have helped you THRIVE.
For example, when the dot-com bubble burst, the Nasdaq fell 71%.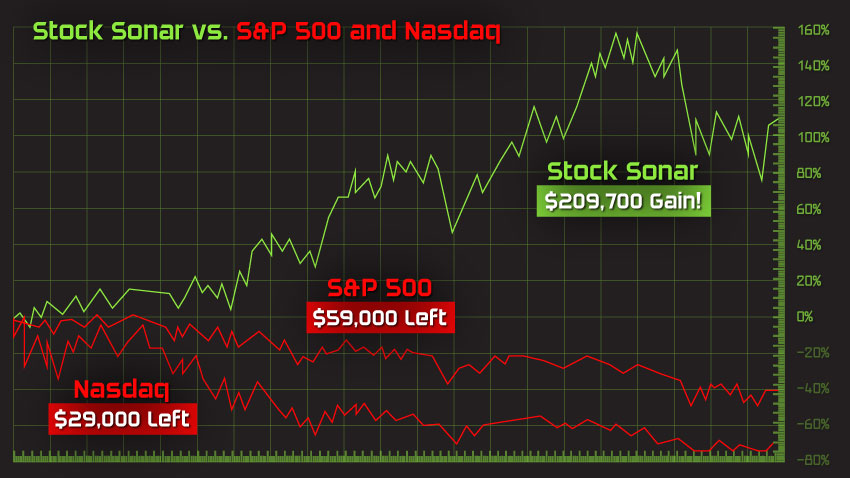 If you'd had $100,000 in the Nasdaq... by the time the carnage was over, you'd have had just $29,000 left.
The S&P 500 didn't fare much better. You'd have had just $59,000 left of your $100K.
But if you could have put your money into the companies identified by Stock Sonar...
You'd have come out of the dot-com bubble not only unscathed, but with a fat sum of $209,700.
And the same goes for the 2008 financial crisis.
You'd have lost half your money in both the Nasdaq and the S&P 500.
Meaning $100,000 would have been worth less than $50,000 by the time the dust settled.
But Stock Sonar would have identified some hefty winners while the market was burning down.
You'll notice some of these gains are a little lower than what we've found in a raging bull market. But to capture 55%-plus gains during the 2008 financial crisis is an amazing feat. See for yourself...
55% on Aaron's (NYSE: AAN)...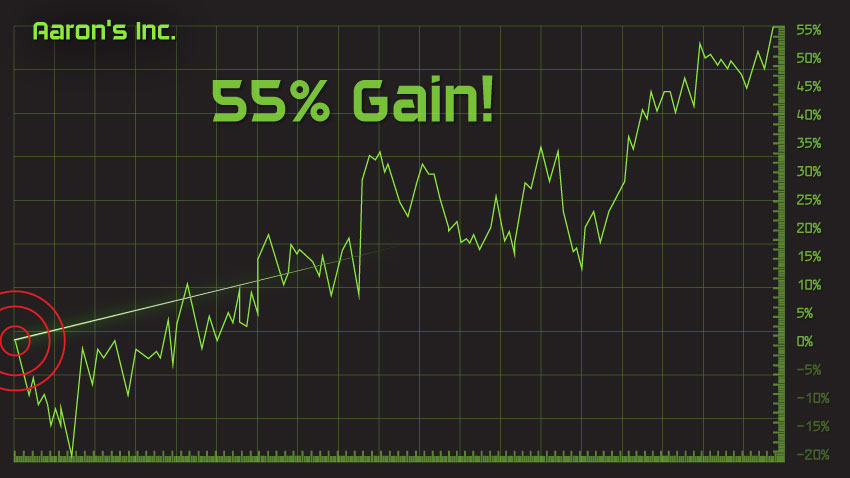 59% on Fred's Inc. (Nasdaq: FRED)...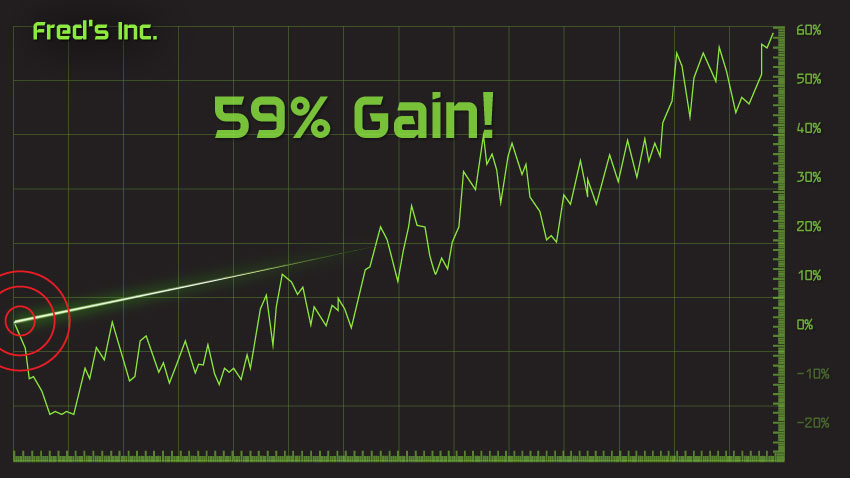 70% on IXYS Corp. (Nasdaq: IXYS)...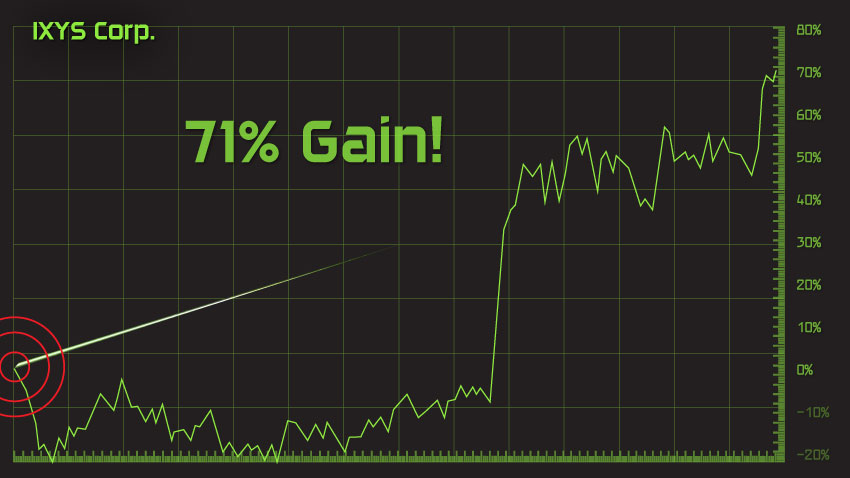 71% on Insteel Industries (Nasdaq: IIIN)...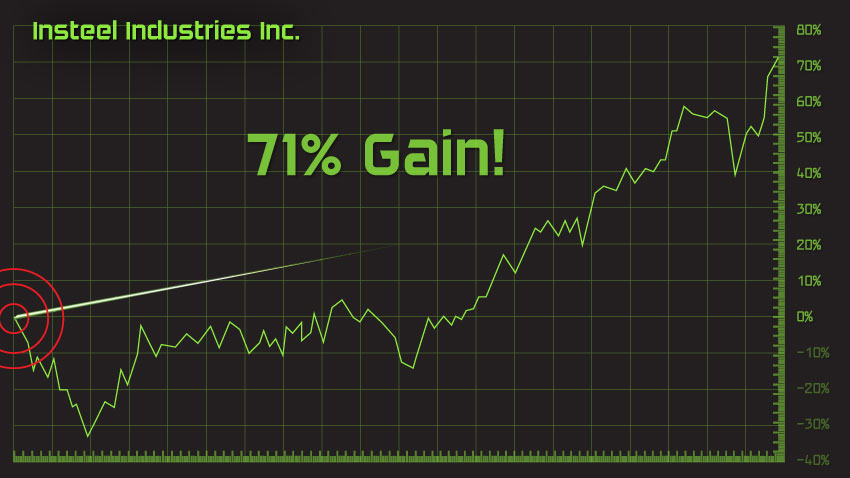 74% on Pioneer Energy Services (NYSE: PES)...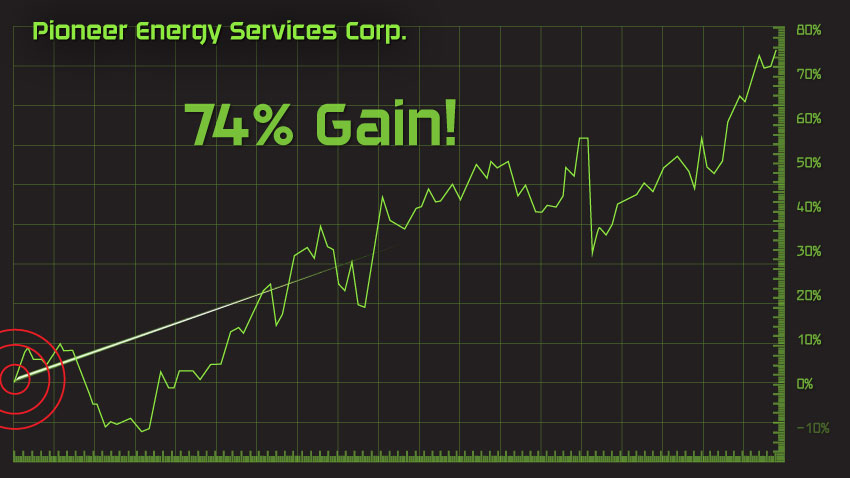 88% on New York & Company (NYSE: NWY)...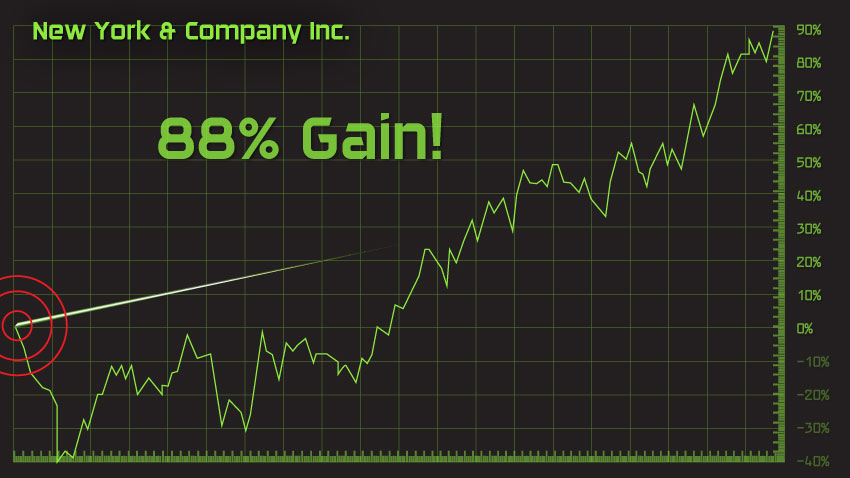 91% on Precision Drilling (NYSE: PDS)...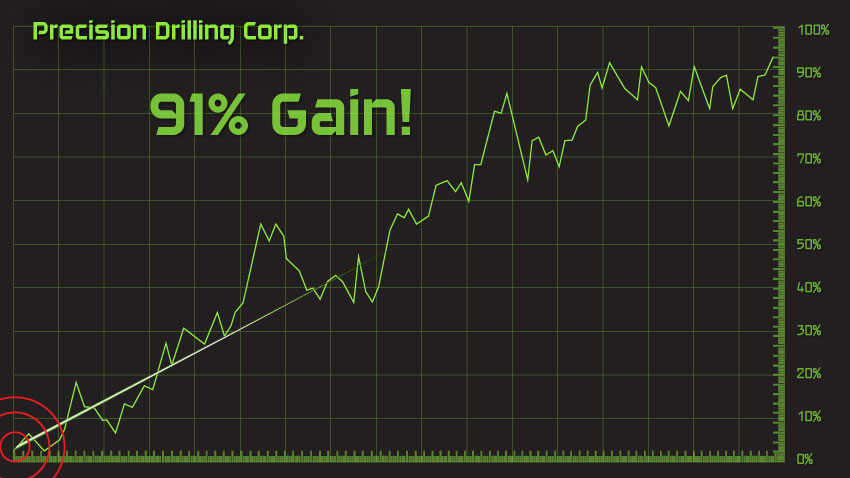 And 107% on ArcBest Corp. (Nasdaq: ARCB).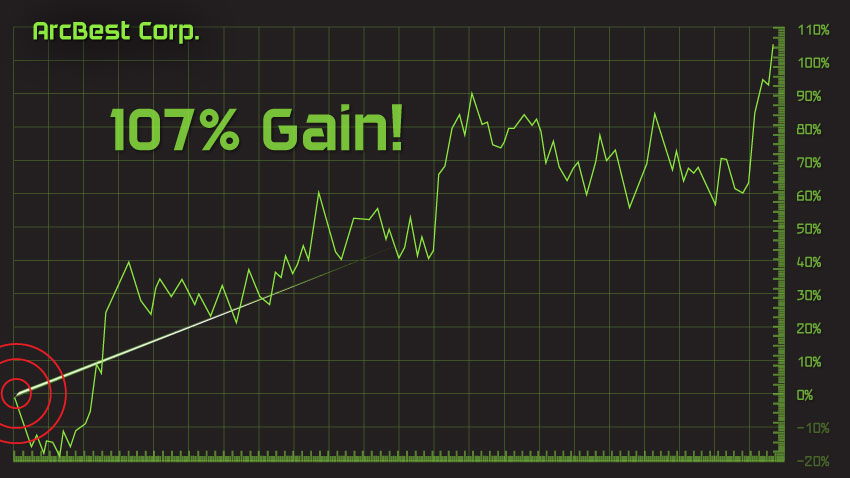 $100,000 split evenly across these trades would have become $176,875... during the worst financial crisis of our lifetime.
In other words, instead of losing half your wealth, this strategy could have nearly DOUBLED it.
That's because there are ALWAYS stocks to profit from... you just need to zero in on them.
That's what Stock Sonar does...
It locates the biggest gain opportunities in a bull market...
And helps protect your wealth while still lining your pockets in a bear market.
It's a win-win.
Because there are always companies setting off my nine time-tested profit triggers.
And Stock Sonar can find every single one of those companies at exactly the right time... to deliver gigantic wins a human couldn't on their own.
Like I mentioned earlier, there are three stocks on my sonar screen right now. They could take off as much as a combined 1,443%... or $174,300 if you invest $10,000 into each.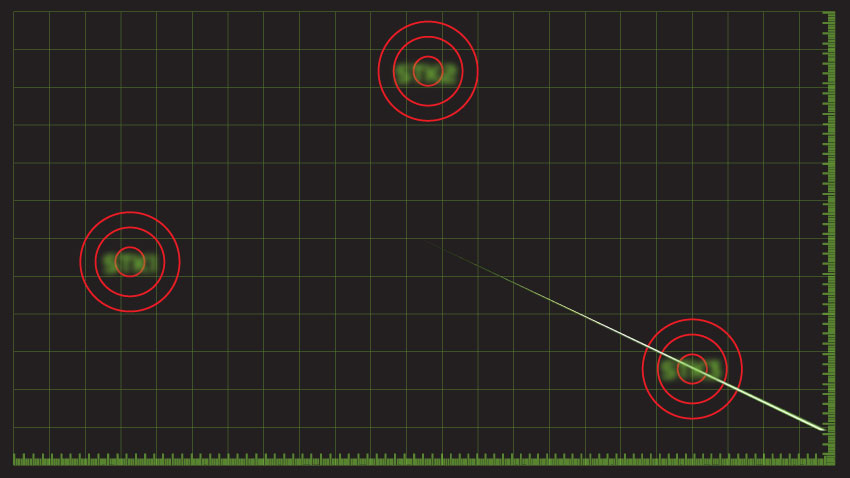 So what exactly are the profit triggers Stock Sonar homes in on?
The ULTIMATE in Buying Low and Selling High
These are traits I've pinpointed over two decades of trading. Traits that signal a stock is about to be shot out of a cannon.
I've spent years fine-tuning these triggers... maxing out their predictive capabilities...
Until their profit potential simply couldn't be any more explosive.
And today... with each trigger precisely calibrated... and my system on file with the U.S. patent office... I can finally reveal my perfected Stock Sonar system to you.
Here are the nine profit triggers in all their glory.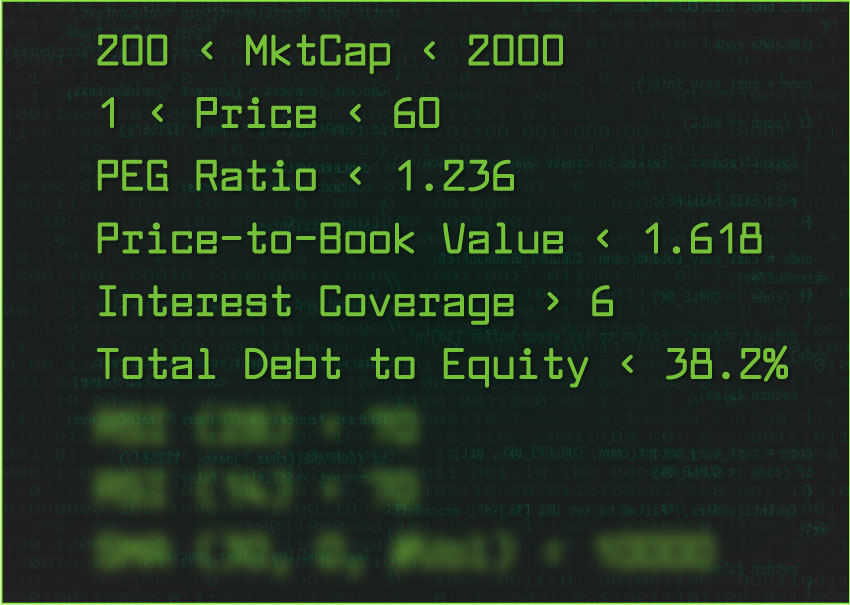 I understand this might look like gibberish. But every monstrous gain you've seen today came when these nine triggers converged.
The first two triggers filter out risky microcap companies while also eliminating sluggish, lumbering megacaps.
In other words, it's easier for a $200 million company to rise 1,000% than it is for a $200 billion to do so.
The next four triggers target stocks with abnormally low prices.
These triggers were fine-tuned to pinpoint companies trading below a fair value.
And the last three triggers are the secret ingredient, blurred out for obvious reasons. They measure momentum – or how "charged up" a stock is.
They let you know when momentum is building to a critical point...
And that a stock is going to start shooting skyward in 24 hours.
The engines are heating up... the runway is cleared... and the launch is just moments away.
This is how you maximize your upside on the stock market.
Find companies trading for just a fraction of what they're truly worth... get in when they're at the start of a huge move...
And enjoy the thrilling ride to potential triple- and quadruple-digit gains!
Of course, as with all investing, nothing is guaranteed – no one can get it right 100% of the time. But 94.3% is pretty darn close... And there's no denying these nine profit triggers are the ultimate in buying low and selling high.
Rejecting the So-Called Elites for Immense Stock Wins
Now, stockbrokers and money managers will have you believe that you can't possibly find winners using a system like this.
Economists will drone on about the "Efficient Market Hypothesis," which says that all stocks are exactly the right price... so there's no way you can beat the market.
In my experience, that's dead wrong.
Stocks are mispriced all the time.
Take Facebook for example.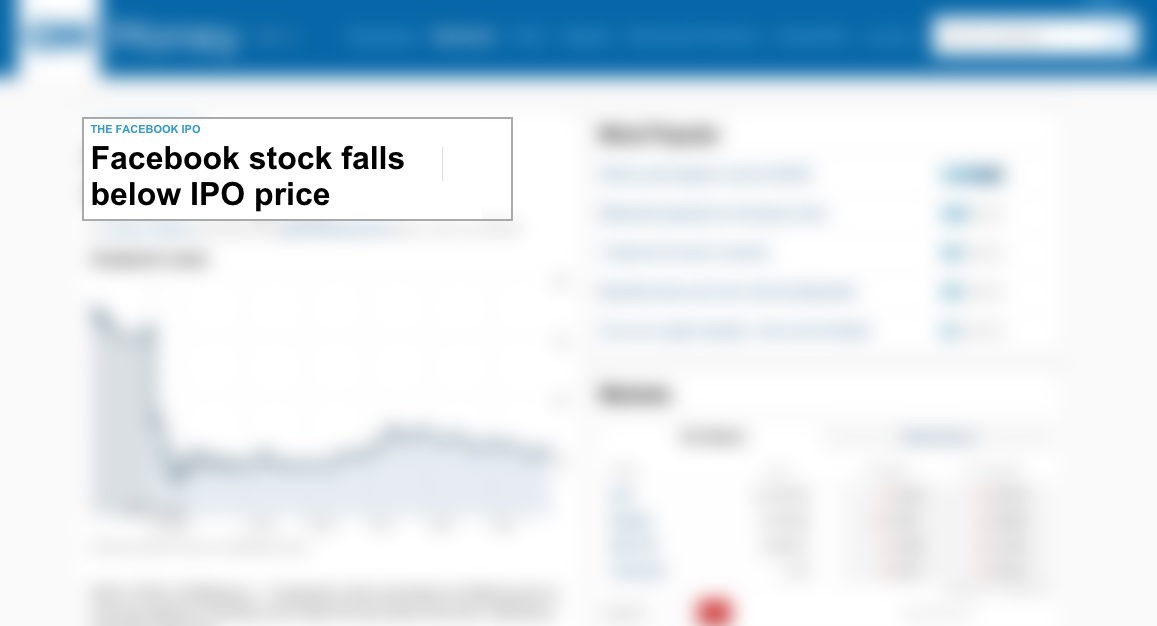 Remember how almost immediately after its IPO, Wall Street started selling?
By August 27, 2012, Wall Street said the stock was only worth about $18.
But today, it's trading around $150 – and it's still climbing.
Now, you tell me...
Was the market efficient back when the price was $18?
Absolutely not.
The fact is... Wall Street got it wrong.
And if you could have seen the signs indicating that error, you could have made a fortune.
Recognizing these mistakes helped Stock Sonar beat the market by 3,328% in our historical analysis.
It just proves that by using my Stock Sonar-based strategy...
You can make an absolute killing.
And you won't ever want to go back to ETFs, mutual funds or sluggish blue chips.
Because you could be seeing huge gains like these enormous winners from my historical tests...
Like this hefty 5,124% gain on Schweitzer-Mauduit...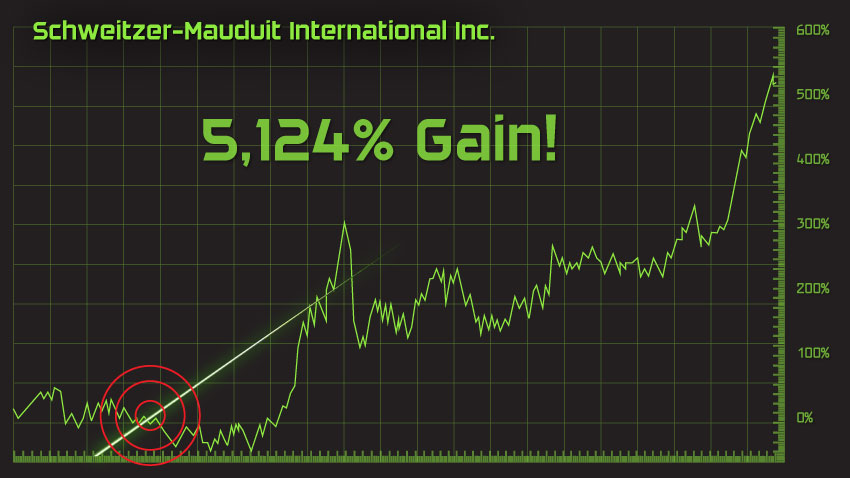 This 514% gain on Innospec...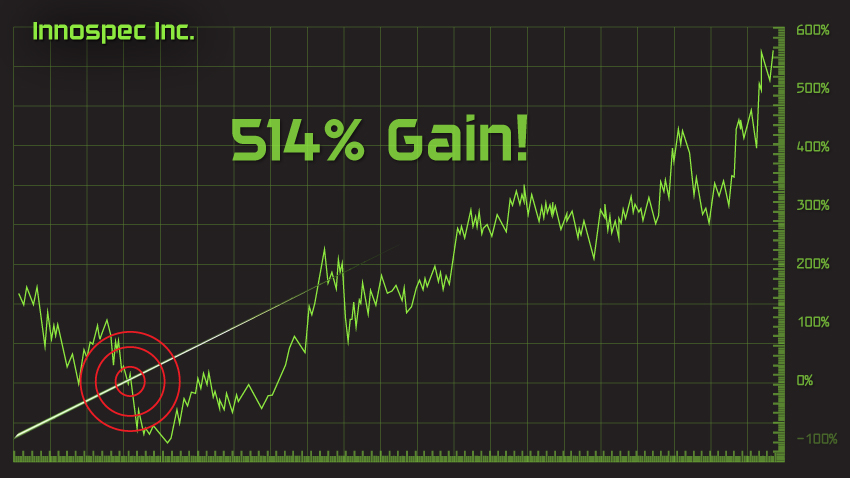 A whopping 1,064% gain on Thor Industries...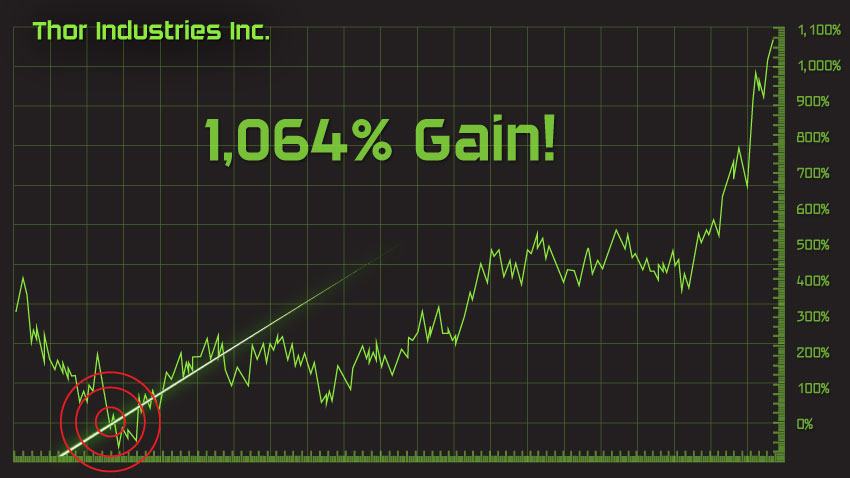 And a huge 1,342% gain on Cantel Medical Corp.!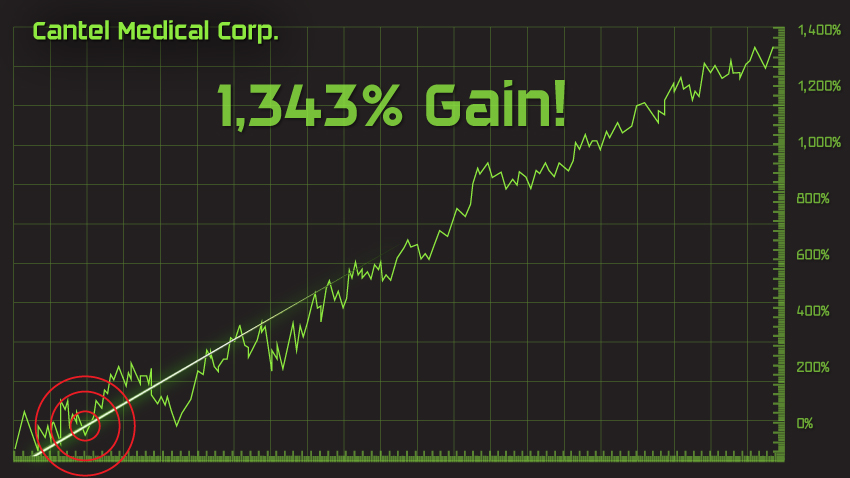 Altogether, $10K into each of these four trades would have turned into a life-changing $383,400!
That's enough to catch up on decades of retirement savings...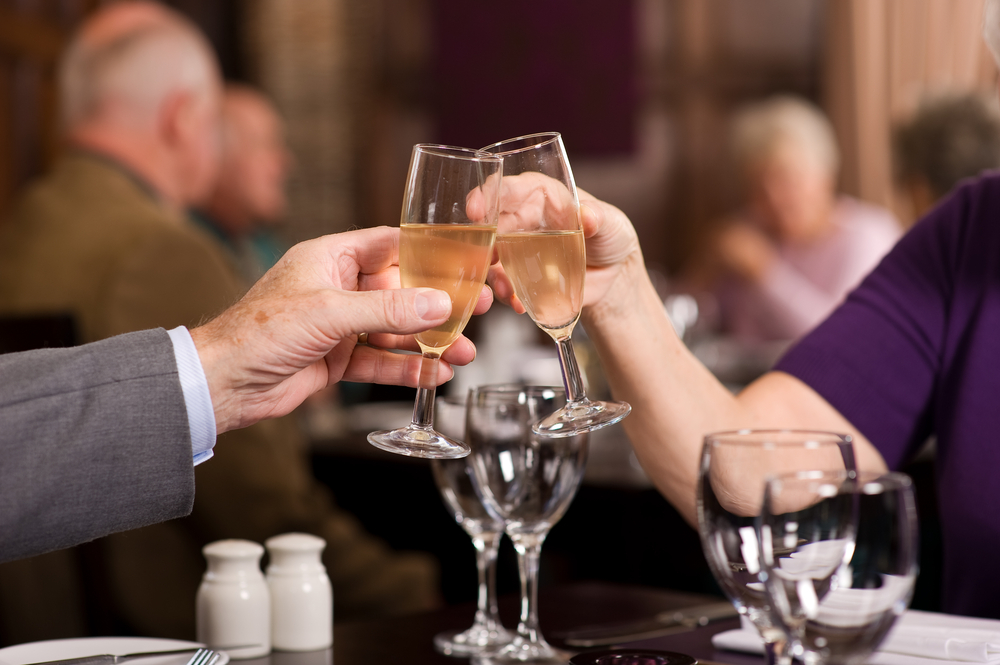 Take your retirement to a whole new level of luxury, where you can treat yourself and your spouse to only the finest food and wine – including that $300 bottle of Opus One...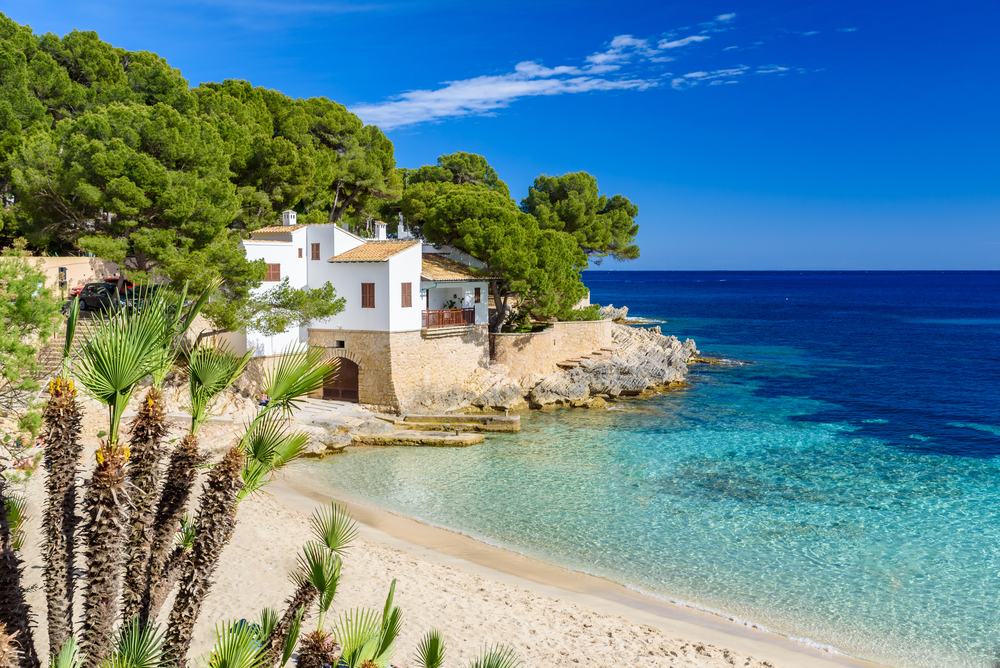 Or even establish a home base in a beach town where you can fly off to exotic locales at the drop of a hat...
It's pretty clear. Following my Stock Sonar strategy is the best way to find the biggest gains in the stock market... without risking it all in options or penny stocks.
And the best part is, with a strategy so accurate and technologically advanced, you don't have to worry so much about making the wrong decisions.
Here's what I mean.
Your #1 Enemy Is NOT What You Think
I've spoken with thousands of normal, everyday investors who struggle to find the big winners in this market.
And there's one major mistake nearly all investors make...
They trade with their emotions – instead of following a disciplined, proven strategy.
So they buy at the top... when all the gains have already been made.
And when the market takes a turn for the worse, they sell that same stock at a loss. Even though the bottom is exactly when you should enter the fray.
You know how it goes... when your golf buddies start raving about an investment... that's the time to get OUT. But sadly, that's when most folks jump IN.
And the proof is in your brokerage statement.
According to DALBAR, the leading authority on investor behavior, the average investor makes just 2.53% each year.
But now, with Stock Sonar, there's a better way.
I decided a long time ago I wanted to help my readers make as much money as possible.
And when you have a system that is mathematically PROVEN to find inexpensive stocks ready to skyrocket...
It's much easier to annihilate your fear and finally make huge profits.
Having a strategy in place has allowed my readers to reap incredible gains.
Like Ivan F., who wrote, "I was able to get in at $1.10... and sold at $9.80, which turns out around 790%."
And Matthew M., who said, "It's trades like this that really put a boost in the retirement portfolio. Many, many thanks."
And here's one of my favorite notes I've ever received, from Rory S.: "I fired my money manager last month. This year... I made more money than he's made me over the last seven. In fact, he made more money off of me than he made for me. Even this year I've more than doubled him using your intelligence."
Messages like these are why I love what I do.
Sure, with 20 years of market experience, I could easily be managing billions of dollars of assets... helping the wealthy get wealthier.
But there's no feeling quite like helping thousands of people like you achieve financial freedom.
I've seen the power of following a proper investment strategy firsthand.
When my grandfather passed, he left behind a perfectly planned stock portfolio for my grandmother.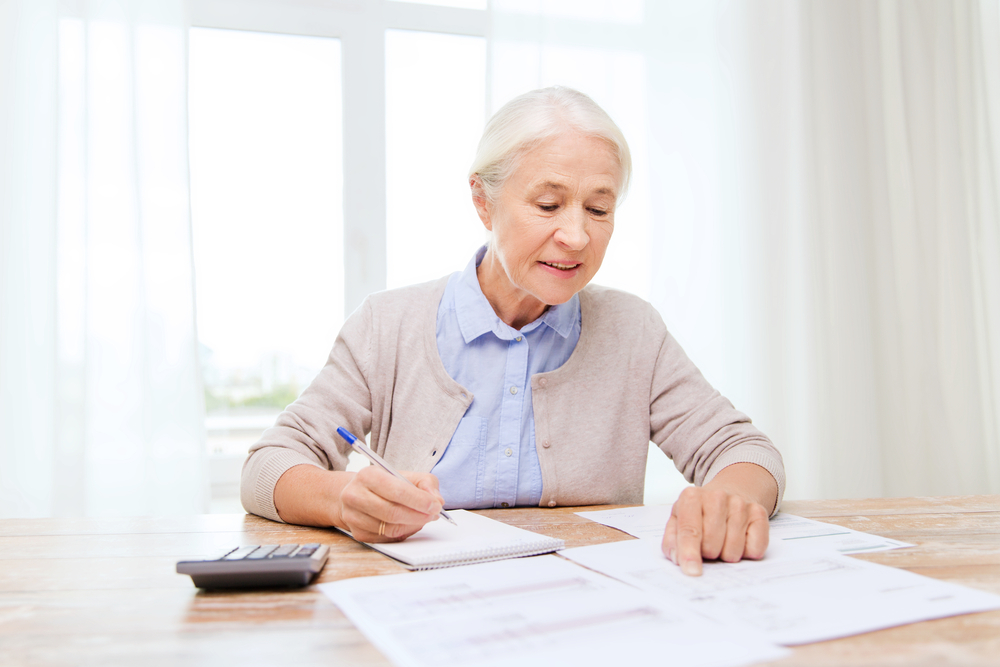 And because the strategy was in place, she didn't have to do a single thing – except enjoy her independent lifestyle in her own home.
That's the kind of freedom I want to help you achieve today.
And Stock Sonar may be the biggest windfall for my readers yet.
With a proven system for generating outrageous gains and my expert analysis, it'll be a breeze to take the emotion out of trading and finally...
Win. BIG.
Brace Yourself...
Now, I've told you Stock Sonar finds the best possible opportunities in the stock market.
The gains you've seen today are extraordinary...
512%... 545%... 796%... 794%... 807%...
But I have to admit... I've been holding something back.
Stock Sonar can find even BIGGER gain opportunities.
I've already shown you a few quadruple-digit winners this technology would have pinpointed.
1,090% on Littelfuse Inc... 1,133% on LCI Industries... 1,426% on WellCare Group... and 1,343% on Cantel Medical Corp.
These stocks turned $10K into more than $100,000.
If you've never locked in 1,000%-plus profits, you might feel like it's out of your reach.
But here's the thing. An average of 118 stocks have risen that much every year over the past 10 years!
And there's no better way to intercept massive gains – 24 hours before they happen – than with Stock Sonar.
In fact, my favorite feature of my system is its ability to identify quadruple-digit returns.
My back tests are overflowing with these gigantic winners.
Like this 1,023% gain on Lorillard Inc...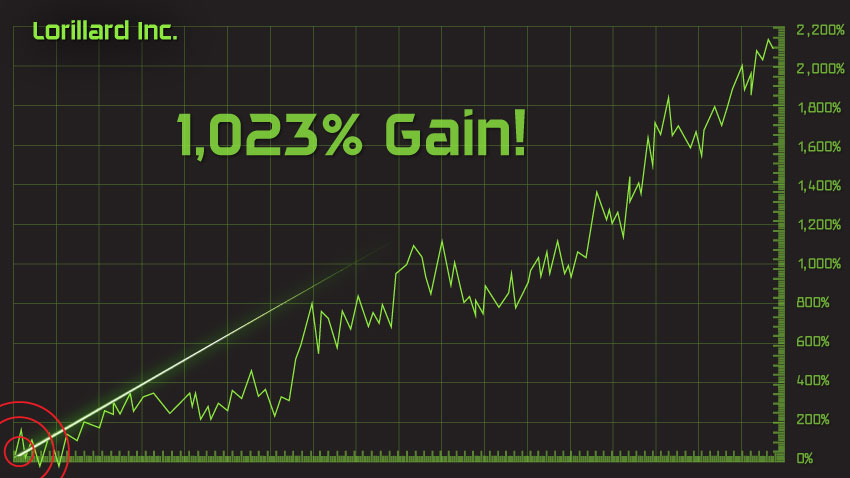 This 1,048% gain on Aetna Inc...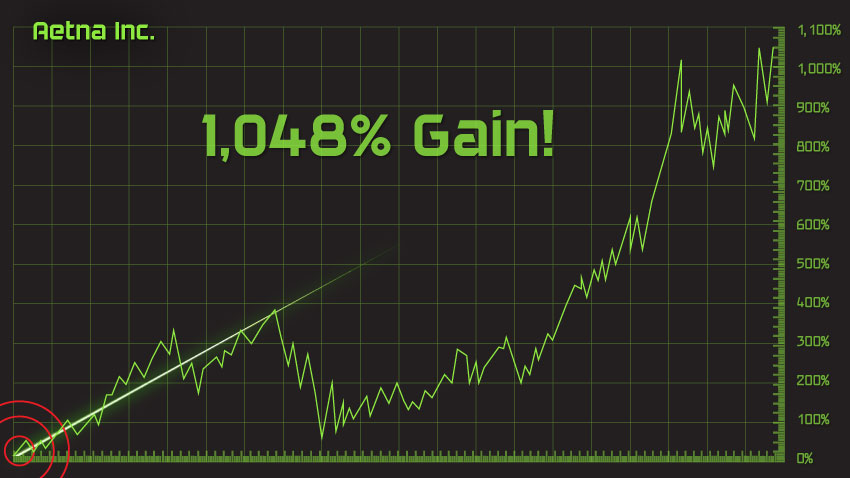 This 1,200% gain on O'Reilly Automotive...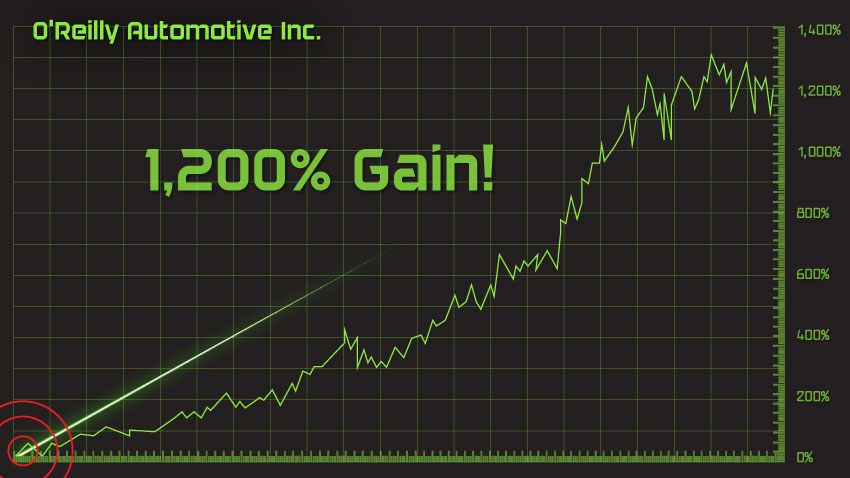 This 1,314% gain on Cracker Barrel Country Store Inc...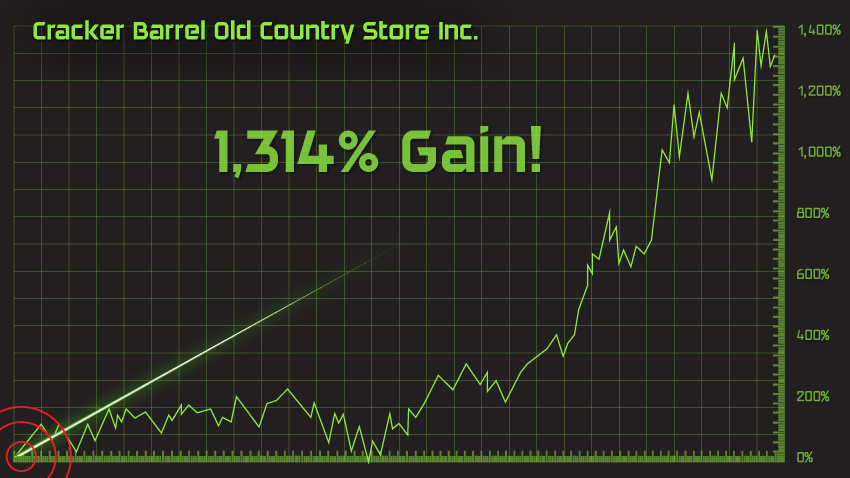 This 1,448% gain on IGATE...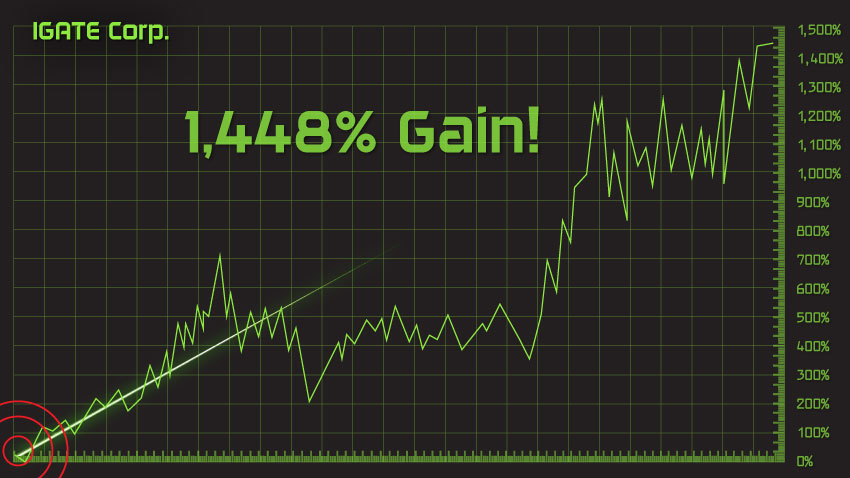 This 1,643% gain on Watsco Inc...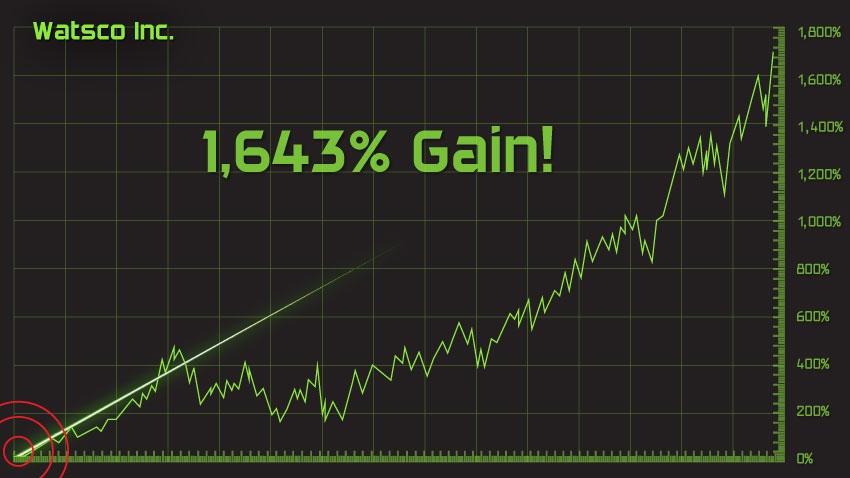 And this 1,985% gain on Expedia.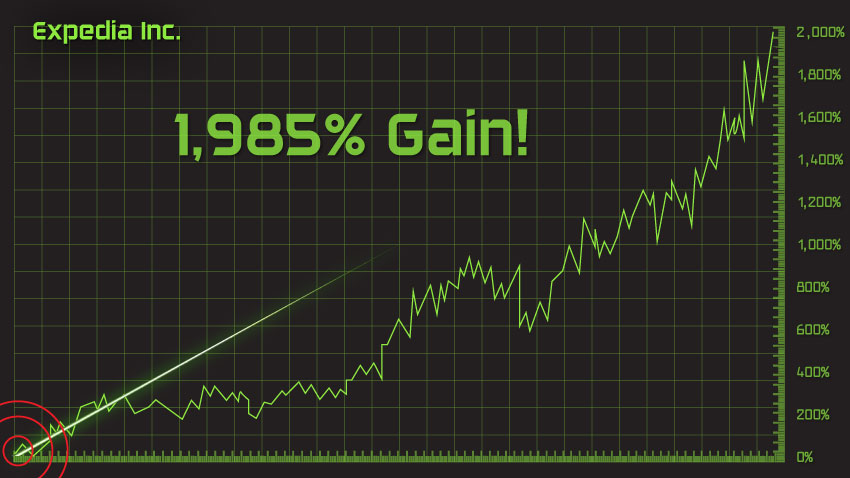 Every single one of these would have turned $10K into more than $100,000. Expedia alone would have turned your $10K into more than $171,000.
Now, past performance is not indicative of future success, but just imagine a whole portfolio filled with winners like these. We're talking about the kinds of gains that can change your life.
But looking back, Stock Sonar can do even better than that impressive roster of thousand-percenters.
It would've locked on to this incredible 2,039% gain on Skyworks Solutions...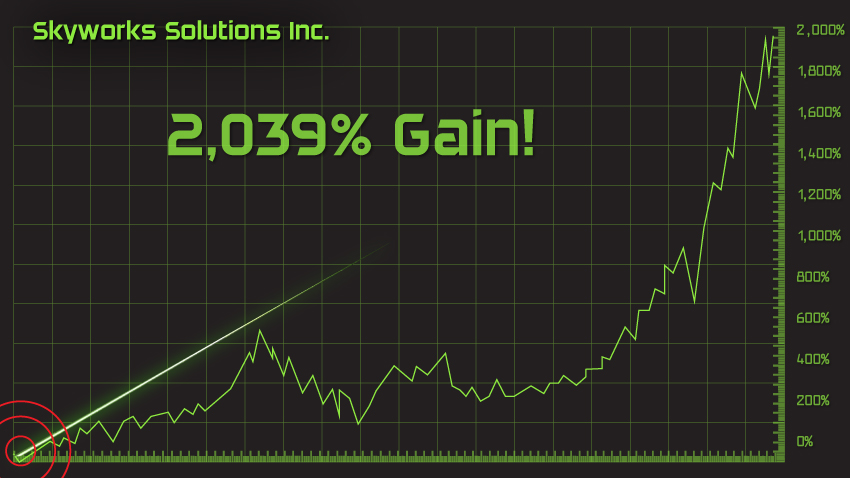 This 3,193% gain on Reynolds American Inc...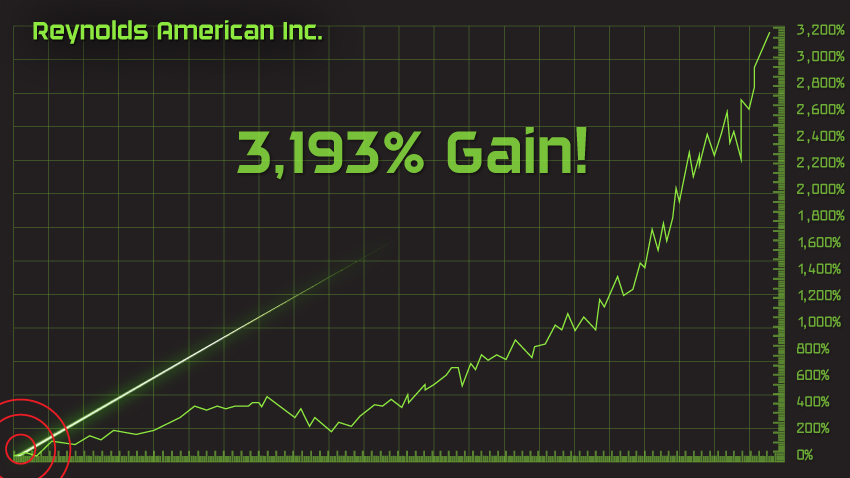 This 2,930% gain on HEICO Corp...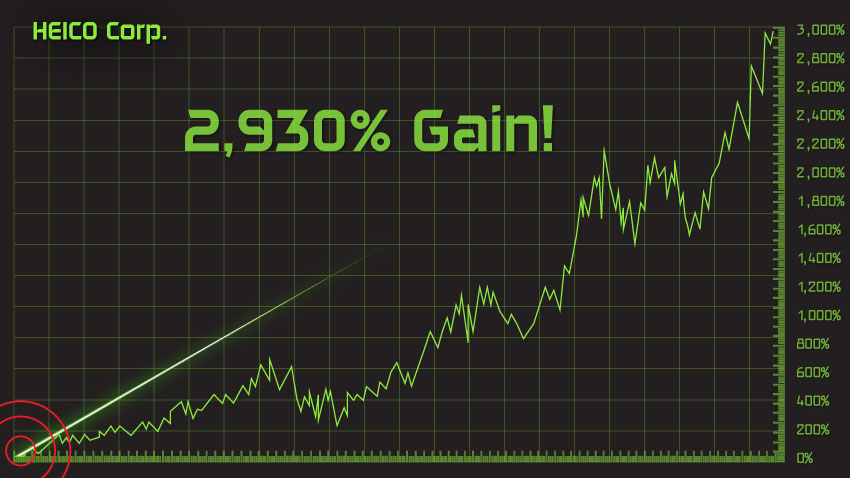 And this absolutely COLOSSAL 6,130% gain on Panera Bread Co.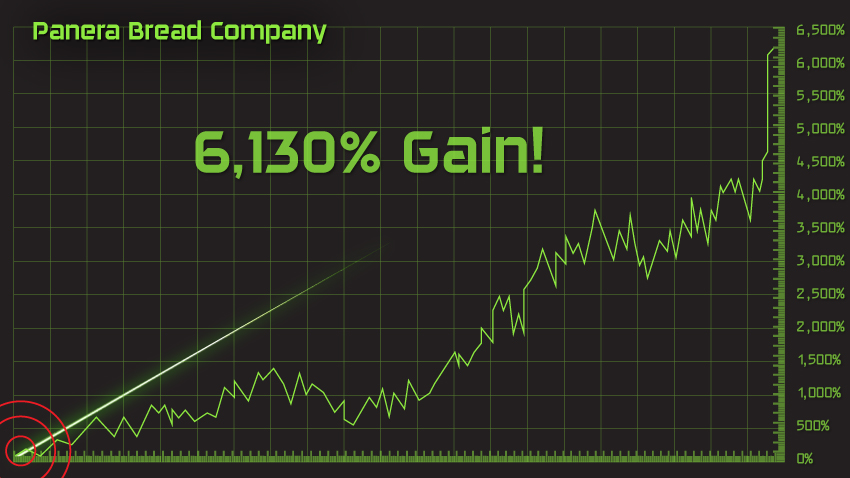 Of course, gains this high are exceptional, so they can take a few years to come to fruition.
But imagine putting just $10K into a trade... and coming out the other side with more than $600,000.
Even a smaller stake of $1,000 would turn into $60,000.
It's every investor's dream.
And that's what I designed Stock Sonar to accomplish. That's what the provisional patent is for... and that's why I'm talking to you today.
If your current investing strategy doesn't have this kind of profit potential...
If your best-case scenario is 7% per year...
You're selling yourself short.
With my Stock Sonar strategy, you can get the chance at 3,328% better gains than the S&P – with less risk.
And you don't have to employ any complex trading strategies if you don't want to. You won't have to learn how to trade options... or use leverage.
Your First Step Toward Explosive Gains
To get you started today, I'll send you a special report: "Stock Sonar's Next 3 Targets: Lock On to Quadruple-Digit Gains."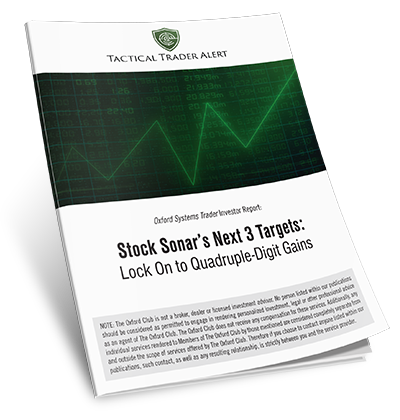 In it, you'll get all the intel on the three companies Stock Sonar is targeting right now.
Each of them has set off all nine profit triggers... and by my analysis, they're ready to take off as much as a combined 1,443%!
$10K into each stock could explode into $174,300! Maybe even more.
But act today if you want to claim your report. You've seen for yourself what can start happening as quickly as 24 hours after Stock Sonar identifies an opportunity.
This Is Your Chance to Claim Victory for Yourself
Now, my strategy depends on targeting companies before the broader market realizes their incredible profit potential.
So I can't just release Stock Sonar to the masses. That would eliminate our strategic advantage.
That's why today, I'm launching a brand-new VIP research service... Tactical Trader Alert. And I'm inviting you to join me.

This is your chance to be part of an elite group of folks who will be equipped to storm the markets for massive gains.
You'll leave emotional trading behind. You'll leave the fear behind. And you could grab quadruple-digit victories with your own two hands...
All with the power of Stock Sonar, the cornerstone of Tactical Trader Alert. And I'll only provide the best picks from my patent-pending system.
When a company sets off all nine profit triggers and shows up on Stock Sonar, I'll use every shred of my 20 years of financial experience to select only the most promising stocks...
I'll look at the sector it's in to make sure we're not getting value stocks in a dying industry...


I'll do my own thorough review of the company's financials. This makes sure one-time revenue events haven't made the company set off a profit trigger when it didn't deserve it.


I'll also do my own technical analysis. If the stock price is in a downtrend, I'll wait it out so you can get an even better deal on a good company.


And as a bonus, I like to look at analyst ratings. If everyone's down on the stock and selling it short, it means no one else knows what we know. Besides, I like to go against the grain. If you're doing what everyone else is doing, you're never going to beat the market.
These extra confirmation screens reduce risk and give you the best possible chance at 1,000%-plus gains.
I'll even use additional proprietary technology to make sure we're catching every single profit opportunity in the stock market.
Today, I'm only inviting a lucky few to be charter subscribers of my Tactical Trader Alert. Why?
My strategy depends on getting in before the masses. Limiting subscriptions is the only way I can ensure ALL my readers have the chance to lock in as much profit as possible.
So no more than 225 people will have the chance to become charter subscribers of my newest VIP research service today. Spots are available on a first-come, first-served basis.
That's the most I feel comfortable bringing into this opportunity.
I urge you to claim your spot right now.
Since this technology is in the process of being patented...
The only way in the WORLD you can access the best of the best recommendations is through Tactical Trader Alert.
No one else has access to my exclusive Stock Sonar.
No one else even has the legal right to recreate my system.
Only subscribers of Tactical Trader Alert will be able to see Stock Sonar's insights.
And subscribers of this elite research service will keep 100% of their trading profits.
A hedge fund would take 20% right off the top.
That can amount to tens of thousands of dollars being taken from your account.
But my mission here is to help you. So you can keep 100% of your trading profits.
Again, you won't have to learn how to operate advanced software... or sift through millions of data points. I'll take care of all the difficult parts.
In fact, I'm going to make it as easy as possible for you.
All you have to do is follow my email recommendations... and enjoy every explosive win as they come. It's that simple.
Here's everything you get when you join Tactical Trader Alert.
Benefit #1: Instant Stock Sonar Alerts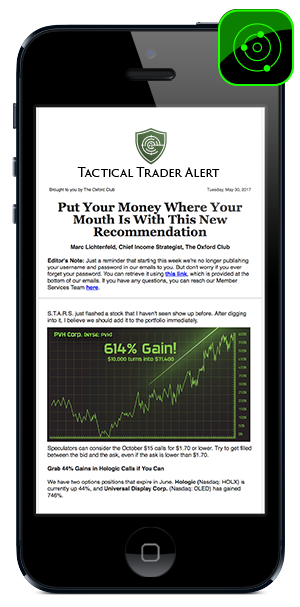 As soon as my system gives the green light on an opportunity, I'll send you an email briefing with everything you need to know, including...
The ticker symbol of the company
Exactly why it was identified
Additional intel my analysis uncovered
What price you should pay for the stock
And any other metrics I'm looking at for MAXIMUM profit potential!
I plan to send you at least two recommendations every single month. About one every other week.
If you decide to invest, all you'll need to do next is buy the stock in your brokerage account. I'll also alert you immediately when it's time to sell.
It's that easy.
And there's more.
Benefit #2: Weekly Stock Sonar Debriefings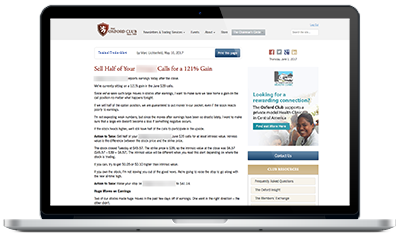 In between buy and sell alerts, I'll constantly monitor the markets.
And every week, I'll send you an email to keep you updated on all our positions.
This way, you'll always know how well our portfolio is doing.
Benefit #3: 24/7 Access to Subscriber Web Portal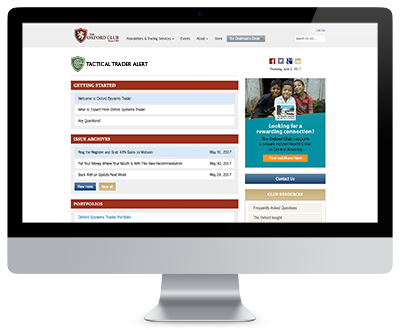 Everything we ever do in this service – every recommendation, sell alert and update – will be documented on this site.
You'll be given a password to access this proprietary research.
In addition, you'll have access to any special reports I release. Which brings me to...
Benefit #4: My Special Report: "Stock Sonar's Next 3 Targets: Lock On to Quadruple-Digit Gains"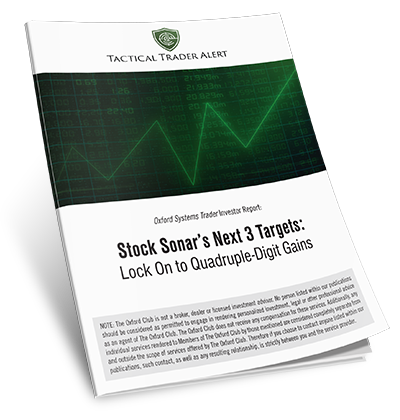 There are three stocks showing up on my Sonar screen as we speak.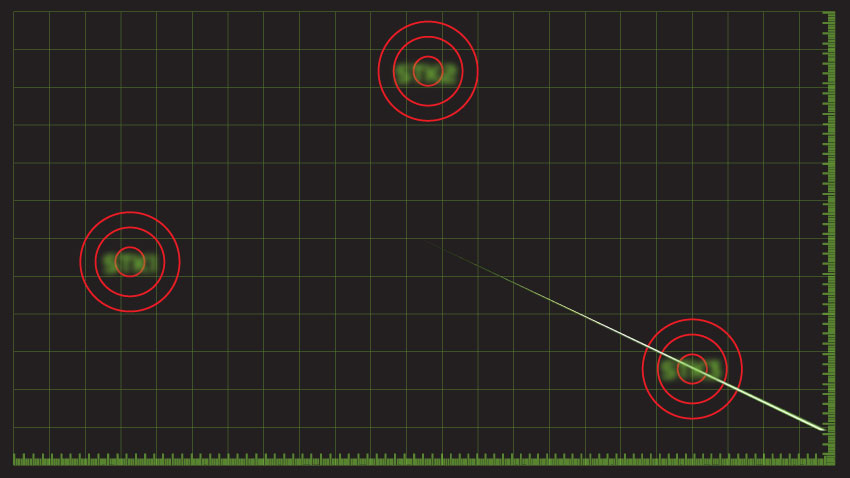 Each one has just set off all nine profit triggers and is ready for takeoff. They could start soaring as soon as 24 hours from now.
I'll give you all the details on these three stocks – and send your report as soon as you join so you can get in right away.
And we'll keep track of these stocks with...
Subscription Benefit #5: Tactical Trader Alert Model Portfolio

The model portfolio with entry date, suggested buy price and open gains will be updated daily. You'll be able to access it on the subscriber portal, and I'll send it with every update.
Subscription Benefit #6: VIP Service Line
When you join Tactical Trader Alert, you'll have access to a VIP Trading Services Team that will be able to help with any questions you ever have about your subscription.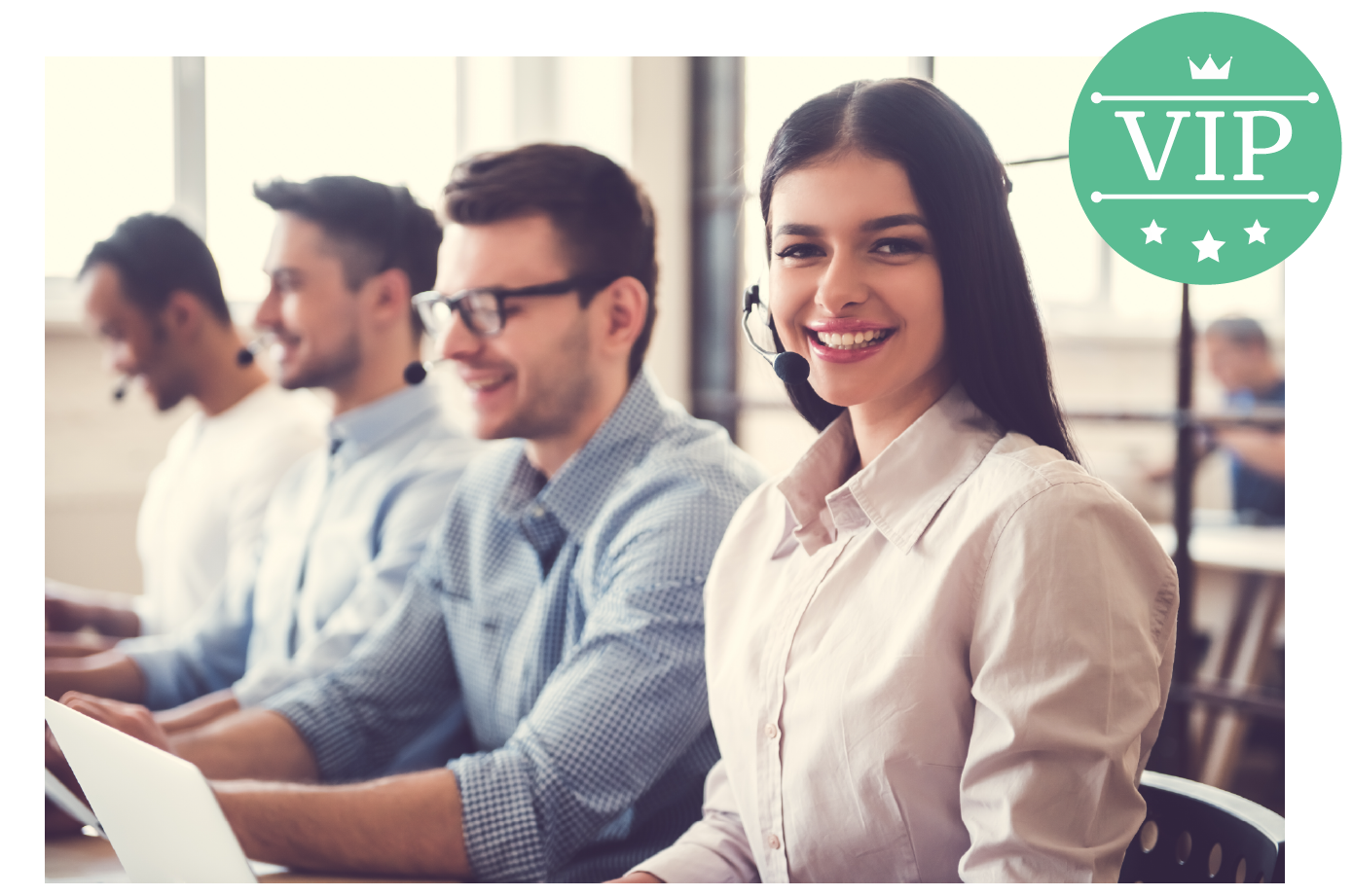 That said, even though the technology is advanced and the profit triggers are highly sophisticated...
Tactical Trader Alert may be the most easy-to-use investment research service on the planet.
If you want to beat the market dozens of times over...
If you want to have the peace of mind that your money is in the right stocks...
If you want to finally get the chance to see those big triple- and quadruple-digit wins in your account rather than just hear about them...
You have to make your move now.
Dreaming about your retirement goals isn't going to accomplish anything.
You have to do your part – and claim one of 225 charter spots in Tactical Trader Alert today.
Here's how to do that.
The Best Deal for Access to Stock Sonar
Research like this takes a lot of high-tech equipment that you can't just buy at a computer store. We're talking top-of-the-line, specially installed software...
Heck, we pay $24,000 each year for just the data that goes into Stock Sonar. And that's without the cost of the scanner... or the top-line researchers hired to help with the massive amounts of information I handle on a daily basis.
With the opportunity to beat the market by as much as 3,328%...
And make $208,560 off a $10,000 investment...
We could open up charter subscriptions at $20,000 and it would still be a steal.
But you won't pay ANYWHERE near that much for access to Tactical Trader Alert.
You won't even pay the industry standard.
A hedge fund using similar technology would probably charge you 2% on your deposit PLUS 20% of any profits.
On $500,000, that's a $17,000 hole in your pocket just to match the market.
That's just not right.
I wanted you to be able to see the kinds of gains I've shown today.
So the retail price for a one-year subscription to Tactical Trader Alert is just $5,500.
But I don't want anything standing in the way of your success today. For charter subscribers, I'm slashing the price by more than HALF.
If all the spots aren't already taken by the end of this presentation, you'll pay just $1,895.
And again, to keep this research most effective, no more than 225 people will be able to get in today (on a first-come, first-served basis).
So I urge you to act quickly. This is the first time Stock Sonar's insights will be available to anyone. And my research is followed by 600,000 readers and subscribers.
So I expect demand for my brand-new research service to be extremely high. Fewer than 1 in 2,400 readers will be able to get in today.
And to keep people from joining my service for the special report... seeing how my system operates... and then canceling... all sales for Tactical Trader Alert are final.
It's unorthodox, I know. But I cannot allow anyone access to this patent-pending technology unless they are 100% committed.
I don't want my proprietary system getting out into the general public until I know it's completely protected by law.
It's simply too valuable.
However, I want to honor the fact that you're putting your trust in me today... with two personal guarantees.
Guarantee #1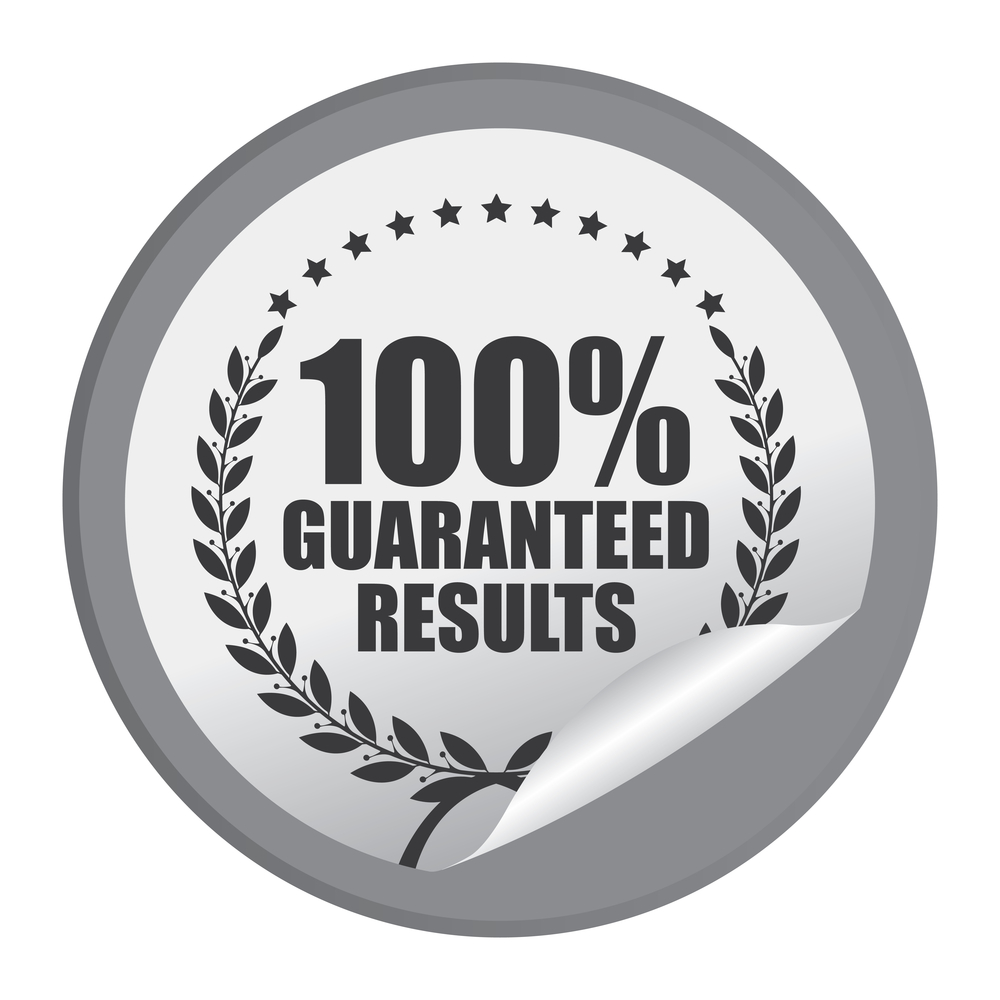 I've proven the extreme accuracy of Stock Sonar, but I'm going to put my money where my mouth is.
8 out of every 10 trades we target in Tactical Trader Alert over the next year WILL be wins (as per my track record). Guaranteed.
If not, just call my team, and I will put Stock Sonar to work for you for another year – absolutely free.
It's an extraordinarily high win rate to promise. But I've seen the data. So have you. That's why I'm comfortable making this guarantee.
Now for...
Guarantee #2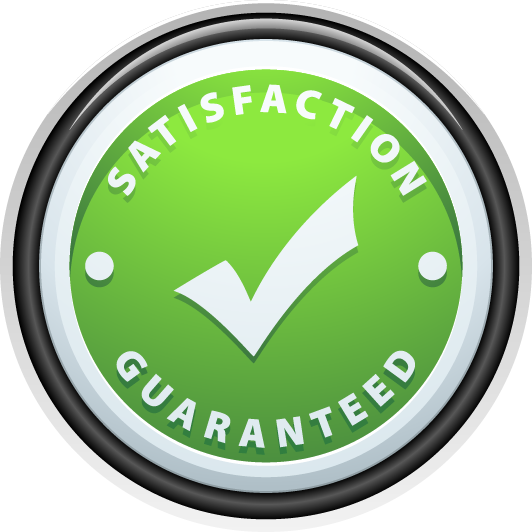 More than anything else, I want you to be successful. That's my mission.
So at any time and for any reason, if you're unhappy with Tactical Trader Alert, just give us a call. You can put the balance of your subscription toward any of The Oxford Club's other VIP trading research services.
We have a wide range of strategies that can help you meet your goals.
Of course, I'm confident you're going to love Stock Sonar's recommendations in Tactical Trader Alert.
The potential to beat the market by 3,328% with less risk than the S&P 500 is just too good to pass up.
And I've heard from plenty of folks just like you who have been thrilled with my research...
Like Ted M., who said, "I already made back my cost for your [research service] in three days!! With your first two picks!!"
Rod S., who wrote, "Marc is my hero!! Keep the trades coming!!!"
And Sal F., who wrote, "I appreciate your insight and brilliance and all the hard work you and your team put into [your research]... I believe, as you do, that this system is going to kick some tail. Thank you again."
Jack B. simply asked me to "please keep the triple-digit gainers coming."
And a personal favorite came from 96-year-old Lester L. He said, "I wanted to let you know that I am a skeptic. I have subscribed to several 'stock gurus' and have been disappointed, picking my own 'guesses' and outdoing them all. After paper trading, I find that you have the best system of any and all. I am now ready to put my money on the line and make some serious money."
All you'll need to join these folks is a computer (or smartphone), an internet connection and a password to log in to my web portal.
When you join Tactical Trader Alert today, you'll receive a confirmation email with your password as well as your special report, "Stock Sonar's Next 3 Targets: Lock On to Quadruple-Digit Gains."
You'll also have 24/7 access to the Tactical Trader Alert online subscriber portal if you want to review any recommendations or alerts.
And if you have any questions about your subscription, you'll be able to call your VIP service line for help.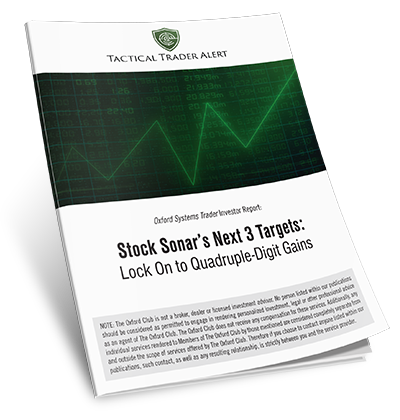 As a BONUS today, I'll even send you a copy of my actual provisional patent for Stock Sonar so that you can take a look "under the hood."
I simply request that you don't share it with people who aren't subscribers of Tactical Trader Alert.
Now... everything is in place for your success.
There's only one thing left for you to consider.
Are You Ready to Finally Hit It BIG in the Stock Market?
Here's the way I see it. You have two choices.
You can keep investing the same way...
Trading on emotions and watching your hard-earned money barely rise – or worse, swirl down the drain...
Scraping pennies off the ground with an S&P 500 ETF...
OR...
You can start following Tactical Trader Alert today and have the chance to position yourself for the biggest gains you've ever experienced.
Like this mother of all Stock Sonar trades on Middleby Corp...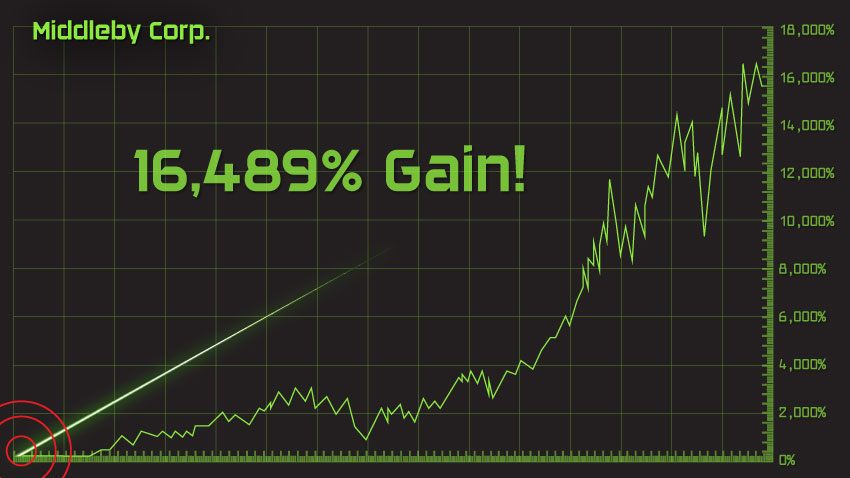 That's right. Stock Sonar would have locked on to a 16,489% gain over time.
If you'd even heard of Middleby... and had the foresight and ability to buy $10,000 worth of shares back then...
You'd be sitting on $1.6 MILLION today.
Sure, it's the biggest gain Stock Sonar ever found in our historical analysis, but gains even half as big would hand you more than $820,000 in profit.
But you have to give yourself the chance to grab these sorts of gains.
With thousands of data points for all of the 4,331 publicly traded companies... picking a winner like Middleby on your own would take superhuman analytical powers.
The only way to ride a tidal wave of profit like this is to trade with an advanced technology like Stock Sonar.
I applied for a patent on this technology so I could share it with only my readers.
Because I want YOU to experience massive, supernova explosions of profit for yourself.
You are one of the lucky few today who will have the chance to try my Stock Sonar strategy.
But you have to do your part.
Once you click the "Access Tactical Trader Alert Now!" button below and become a charter subscriber...
You must be committed to doing what's best for you.
Letting your emotions get in the way will land you back at square one. Trailing the market – or worse, losing money in the Wall Street casino...
In other words, you have to be committed to your own success.
Overwhelming Victory Is at Your Fingertips!
Everyone has their reasons for investing. And no matter what yours is, Stock Sonar will provide what you need to locate the biggest possible profits as an investor.
Whether you want to take an extravagant two-week European river cruise...
Take care of your family...
Or pursue your lifelong dream of collecting classic cars...
Or whether you just like winning...
As someone who makes a living off stock market victories, I can tell you there's no thrill like looking in your brokerage account and seeing a whole slew of gigantic gains.
Just imagine opening your portfolio and seeing this.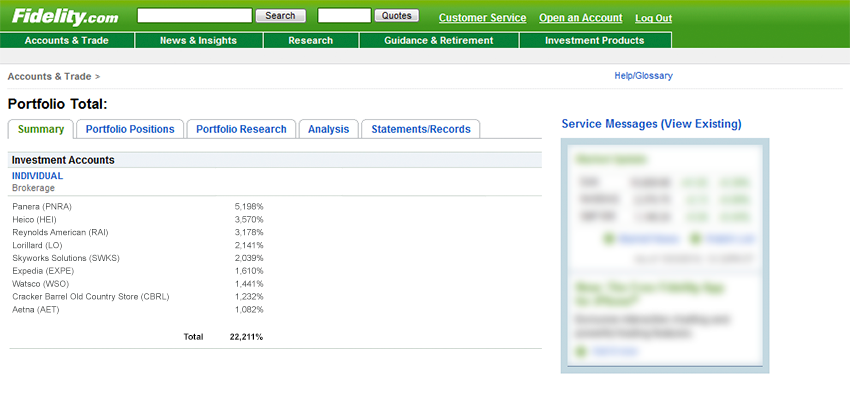 Whatever your motivation is, it's easy to see how Tactical Trader Alert can help you achieve your objectives...
Faster than you ever thought possible.
It's easily the most advanced tool available for market-crushing returns.
Remember, in testing, this patent-pending technology beat the S&P 500 by 3,328% over 17 years. That includes the dot-com bubble AND the financial crisis.
It can deliver triple-digit gain after triple-digit gain... potentially even quadruple-digit gains...
And does it all with less risk – by targeting stocks with valuations that are much lower than they should be.
Stock Sonar only scans for undervalued companies set to launch into the stratosphere.
There are always opportunities hiding in the markets. My service will show you where to look.
It's Time to Pull the Trigger
When you click the button below, you'll get started. It'll take you to a page where you can review your order before it's final.
But remember, only the first 225 people will be able to claim a spot in my brand-new service today. The research on these under-the-radar opportunities is just too sensitive for me to let it spread all over the internet.
I urge you to act now... before you miss out on Stock Sonar's next explosive win.
Remember, there are THREE stocks that are pinging RIGHT NOW... and could deliver as much as $174,300 in profit.
Best,



Marc Lichtenfeld
Chief Income Strategist
The Oxford Club
P.S. Stock Sonar doesn't just beat the market by 100%... 500%... or even 1,000%. It has beaten the S&P 500 by 3,328% over 17 years!
It's the difference between picking up $6,000 in the S&P 500 and pouring $208,560 of profit into your brokerage account.
Its raw moneymaking power is why it's in the process of being patented under application #62507516.
Today, I want you to have a password to access my research and recommendations...
Just click the button below to get started.